Focusing on Physical Wellness at Home
Last week we shared a few ways to help you set new goals and work towards current ones. We shared our 90-Day Wellness Calendar which can help you identify goals, aspirations, and even things you're thankful for. Click here to download your copy. Some members of Team ISWO have set goals that focus on their mental and spiritual health, and some of us set new fitness goals.
Given the current rules of social distancing in place for our communities and families in Ontario, we wanted to share some tips and tricks to help support your physical wellness at home. These are simple ways to get you moving and keep you active, without fancy gym equipment, or a dedicated workout space.
No equipment? Get creative! Make a kettlebell weight with reusable shopping bags and books for weight.
Another alternative to achieving heavier weights is filling water bottles with water and using them as dumbbells. This works best for those of us who are using lighter weights and looking for something more challenging.
If you're trying to get some cardio in but don't have anywhere to walk, try jump roping, jogging in place, or a combination of aerobic exercise that can be done anywhere in your home.
If you do have space, try to get the family involved and play a game of tag, set up a relay race in the back yard, and set a timer to beat.
Turn your board game nights into a fun way to get your steps in. Every turn a player takes, they have to pick up the dice/game piece from across the room. Or you could encourage some push-ups or sit-ups as you go along.
Learn a new dance to get your heart rate up. Doing a minimum of 30 mins of cardio a day can help prevent and lower the risks of diabetes and heart disease.
 If you're used to working out at the gym, try using your home furniture and adapting your workout. A kitchen chair can really help you elevate your routine.
Mix it up. During these times we can find ourselves repeating our days. Try to change up your routine and try new things.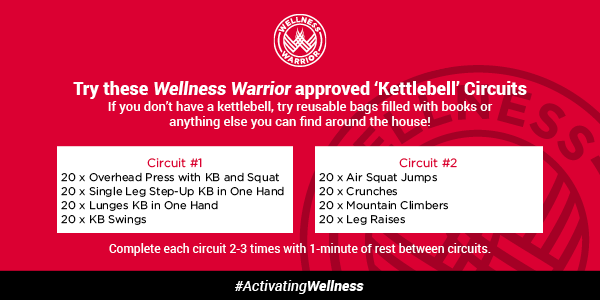 Check out these great circuits that #WellnessWarrior Bailey Meawasige put together! The circuits can be completed using a kettlebell or dumbbell, or your homemade weight. Bailey recommends completing the circuits 1-3 times a week each and reminds you to drink plenty of water!
#WellnessWarrior Kenzie Deleary created a workout video specifically to try indoors. Switch up your routine and try the full-body workout today!
Wellness Wednesday | Active and Indoors with Wellness Warrior Kenzie Deleary