Mackenzie Deleary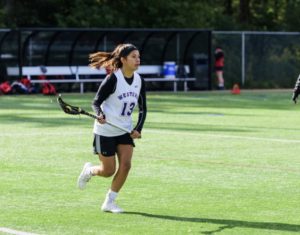 Mackenzie Deleary is 19 years old and a member of Chippewas of the Thames First Nations. She is currently enrolled at The University of Western Ontario, she is in her second year taking Bachelors of Health Sciences focusing on rehabilitation sciences. Mackenzie hopes to continue on to Westerns Masters of Physical Therapy and use her theoretical knowledge and personal experiences in sport to excel in her field. Mackenzie is also a varsity athlete on the Western Mustangs women's field lacrosse team, playing her second year as attack.
Mackenzie has participated in the 2017 North American Indigenous Games and played for Team Ontario, placing second, and she has also participated in the Canadian U19 Field Lacrosse Nationals for Team First Nations. Mackenzie was recently named Assistant Coach for Team Ontario heading to the 2020 NAIG in Halifax, NS. Her goal is to someday work with the Canadian Olympic Team as a physical therapist for athletes and attend the Games in person.
What is the role of sport/physical activity in your life?
I've always had sports in my life, from early childhood to competing at Western University in the OUAs. I grew up as a multi-sport athlete playing everything under the sun (Hockey, basketball, rugby, lacrosse), and participated in many indigenous events such as LNHL, NAIG, the Ontario Aboriginal Summer Games. Sports serve as a fun way to pursue active living as opposed to straight exercise. While I enjoy doing both, there is nothing like being out on the field with my teammates pursuing a common goal.
How do you define wellness?
Wellness to me is living life to the fullest in all aspects of life, pursuing optimal health and vitality. One of the main ways I practice wellness is doing physical activity every day as it directly affects my physical health, but also my emotional, interpersonal and environmental wellness.
What are the things you do each day that make you a 'Wellness Warrior'?
Finding ways to give back and promote wellness in my local community such as coaching young lacrosse athletes, hosting clinics, volunteering with the Special Olympics, and personally leading an active lifestyle.
Who or what is your inspiration?
My mom is my biggest inspiration. Growing up, she was raising our family while simultaneously working towards her university degree as a first-generation student. Later watched as she graduated with honors at the University of Western Ontario. Even during the busiest times of her life, she still had time to put me and my siblings in sports and cheer us on. From then on, I wanted to follow her footsteps of pursuing higher education and high-performance sport, which would not be possible without her support.