CARLYN, SHARILYN, & KEIR JOHNSTON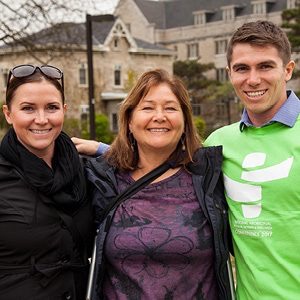 The Johnston family are members of the Chippewa of the Thames First Nation. They all have many years of experience competing in the sport of canoeing. Sharilyn made sure to get Keir and Carlyn out canoeing at a young age – Keir was only 5 months old! When asking Sharilyn what sport means to them she said, "There are so many aspects to it – closeness, challenges, competitiveness, accomplishments, adventure and fitness. Sport allows us to share experiences as a family, whether it is competing against one another, traveling together, or staying active with each other. Sports are a great way to bond with each other. Now with our busy lives, it's hard to see one another. Having the Masters games in Toronto will allow us to come together and compete against one another again."
Keir is currently employed at the Indigenous Sport & Wellness Ontario (ISWO). He recently transitioned into the High Performance Coordinator. He was a former National Development team athlete and competed for Canada 8 times in various international competitions in the sport of kayaking. Working with ISWO allows Keir to focus on giving Indigenous athletes a high performance pathway in sport.
Keir just recently attended the World Indigenous Nations Games. He said, "The World Indigenous Games was an amazing experience. It was just not about competing in sport but a celebration of life. Indigenous peoples from all over the world gathered together to celebrate their culture. The WinGames is starting a worldwide Indigenous community that was great to be apart of. I helped support the canoeing, archery and swimming competitions. It was great to see.participants around the world competing against one another. I hope that we can bring the same welcoming feel to the 2018 Masters Indigenous Games."
When Keir isn't in the office, you can find him either kayaking his average 25k or in the water with youth teaching them the basics. In his down time, Keir likes to keep up with his favourite sports teams – The Toronto Maple Leafs & Toronto Blue Jays.