Annie Cook-Cree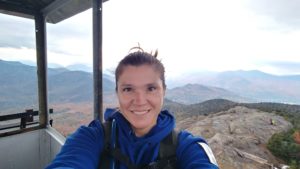 Annie is a Mohawk of Akwesasne and part of the Bear Clan, wife to Evan Cree and proud mother of four. Annie is a program coordinator for Iakwa'shatste youth fitness and Youth Coach and team trainer to a few local minor sports teams. Working at IYF she is able to offer land-based activities such as hiking, biking canoeing and snowshoeing to name a few. She also offers family-oriented programming and workshops to help educate parents and children together on safety issues, wellness, cooking classes, and traditional teachings and workshops. Annie has been a youth mentor for over a decade helping local youth with college prep or finding jobs and sometimes just being there for an ear to listen to what they have to say. Annie has also developed a running program that is offered in Akwesasne to the 5 local schools that helps prepares runners for a few different running events including the Ottawa marathon Kids run. Last year there were 65 kids total that participated in the program and 28 that attended the marathon. Annie is also a member of the Akwesasne Suicide Prevention Committee, The Akwesasne Coalition for Community Empowerment and the Community Health and Social Educators Committee all that help to bring wellness to the community.
What is the role of sport/physical activity in your life?
Sports and physical activity play a big role in my daily life. As a Personal Trainer, Group Instructor, coach, youth mentor and especially as a mother. Growing up as a multi-sport athlete myself I know how strong team bonds can be, how being a part of a team can help you both physically and mentally. Team sports also help teach us without knowing at the time about teamwork, leadership skills, motivation, hard work, determination, and resilience. Sports always gave me a sense of belonging so I try to encourage all my participants and players to come out of every class, every practice, every game and try their hardest and have fun.
Physical activity plays a big part in helping me keep my balance. I have become a big hiker, kayaker, outdoor anything in the last few years. I have also been part of a few healing hikes that helped spiritually and mentally bring back balance not only to my participants but to myself at the same time.
How Do You Define Wellness?
I sometimes refer to wellness as pillars, you need to find your balance to obtain wellness. Wellness is not just one part of you and who you are but, the different parts of you working together with your mind both mentally and emotionally, your body both physically and what your fueling it with and your spirit. When one pillar is off, I feel it affect all of them. When we find our balance, they all work together to help us be our best. I always struggle with one or the other. It is an everyday battle to making the right choices for me to feel my best somedays its food, somedays its environment and some days it all just goes together.
What are the things you do each day that make you a Wellness Warrior?      
Every day is different, somedays its volunteering my time coaching young athletes, somedays its making time to stop to visit our elders. I work in a field that gives me the opportunity to embrace sports and physical activity in everything I do. I always add in components to help aid mental health issues and nutritional education to help balance out my classes with a diverse structure on wellness. Physical activity itself helps aid in mental health. I have taken to a land base setting in hopes of helping my community feel more connected to nature and the land in a time where technology advances and mental health issues arise.
 Who are what is your inspiration?
It changes all the time and I find it in everything. My husband and family for all the life lessons they have all taught me. My youth mentors over the years for watching them excel or beat the odds of what they have been dealt. My coworkers how they work so hard to make a difference even if it is for one child. My community, over the years I have listened to different people and programs working with passion for our community and trying to help our members where they can. My children all four of them watching them teach themselves who they want to be and their resilience and determination to get there.