Bailey Meawasige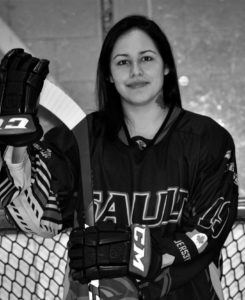 Bailey Meawasige is 27 years old and a member of Fort William First Nation. She is a graduate of the Police Foundations Program at 
Sault College and did her first year at Confederation College. She achieved a GPA of 3.8 in both years of Police Foundations and has recently
 been accepted into Lakehead University where she would like to complete a Degree in Psychology. Bailey is a Team Ontario alumni who played in two National Aboriginal Hockey Championships and has been apart of the Team Ontario Coaching Staff for the last two seasons. Bailey's career goals are to continue to work closely with communities and eventually work in the Police force.
What role does sport/physical activity play in your life?
Sport and physical fitness both play an important role in my life. It is more than just a hobby for me, it is my life. I have been playing hockey for 22 years now and it has kept me on a good path in life. I feel like I am a good role model and someone who people can look up to.
What does Wellness mean to you?
Wellness means to me finding a healthy balance between emotional, mental, physical and spiritual wellbeing.
What are the things you do each day that make you a Wellness Warrior?
One of the things that make me a Wellness Warrior is that I like to stay positive and encourage or motivate others to be better. Another thing would be my willingness to learn and share my knowledge with others.
Who or what is your biggest inspiration? 
I would like to say my biggest inspiration is my Grandmother. She was very humble, strong, and always helping others. She had the biggest heart and she taught me so much by her actions alone. I try to live by the values she had shared with me. I believe we can all grow as individuals and as a community if we can inspire and motivate each other in positive ways.