Joshua Mintha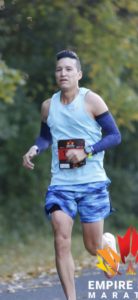 Josh was born and raised in Pembroke, Ontario and is a Member of Kitchenuhmaykoosib Inninuwug (Big Trout Lake, Ontario). Josh currently resides in Arnprior, Ontario.  He is a husband and proud father to his daughter, Harper.  Josh has completed 10 half marathons (1:21:58pb) and 3 marathons (3:02:12 pb, Richmond, Virginia) to date.
What is the role of sport/physical activity in your life?
Running has been part of my life for over 22 years. I ran Cross Country in elementary school, High School, and for one year in college. Now I continue to train for road races for distances between 5km to the Marathon.
How do you define wellness?
Wellness to me is happiness, emotional balance, physical and spiritual health.
What are the things you do each day that make you a 'Wellness Warrior'
My first task of the day is waking up between 4 am and 5 am to get my run in. Depending on what I am training for, my weekly mileage is between 80-100kms, spread over 5 or 6 runs a week.
Being very active, I "TRY" to make healthier food choices  (not always easy) so I can get the most out of my training.
With the stresses this sport puts on your body, I also take rest/recovery seriously. Sleep as much as I can (new to fatherhood, Nov 2018), regularly visit the chiro and massage therapy, and take the easy days easy.
Who or what is your inspiration
I am inspired by Marathon Runner Eliud Kipchoge who recently ran a sub-2-hour marathon. I have been following professional marathoning for over 10 years. Eliud came onto the professional marathon scene in 2013 and he continues to improve. His talent, consistency, and determination is unlike any other. We often set limits on ourselves to what we are capable of doing, he proved that #nohumanislimited.
This inspires me to set high goals and work hard. I have goals of competing in #MIG2021 and breaking 3 hours in the Marathon which I can hopefully achieve in 2020.