Theland Kicknosway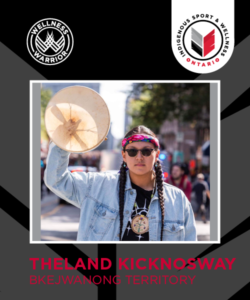 Theland Kicknosway is Wolf Clan, of the Potawatami & Cree Nation and a member of Walpole Island, Bkejwanong Territory in Southern Ontario. He is a singer, a grass & hoop dancer, and helps in ceremonies in many places. He is in High School in the Ottawa Region and enjoys offering his gifts of song, dance & voice for all. He is known as the Cree Drummer when he sang and hand drummed an honor song for the incoming Prime Minister of Canada and his new cabinet members swearing-in ceremony in Nov 2015. He has offered his voice and songs for the Indian Residential School Survivors in 2008 and in the closing of the TRC in 2015. This past spring in 2019, he completed his 5th annual run in partnership with Families of Sisters in Spirit, and raising awareness to the children left behind of MMIWG2S. His upcoming 6th Annual MMIWG2S run will be held this upcoming spring of 2020. His upcoming goal is to run from Victoria BC to Ottawa in 2021. Theland has been a Kairos Blanket Exercise Facilitator for the past 6yrs. In 2018 he received The Indspire Award under the category Culture, Heritage & Spirituality for his achievements and is the youngest Indspire recipient in the 27 yr History of the Indspire and Achievement Awards. Please be sure to follow his journey by checking Theland Kicknosway out on Instagram, Facebook and Youtube.
Q: What is the role of sport/physical activity in your life?
The role that sport and physical activity has on my life is very crucial to me because it not only helps define who I am as a person but also teaches me to think about others and to try and show a good example for the younger generation. When they can look up to you as a role model, that means everything thing to me and to show them that we are supposed to be active and have fun at the same time!
Q: How do you define wellness?
I would define wellness as being apart of wholistic teachings and knowing that we all can heal together. Wellness to me is pursuing your goals. Once you have a healthy and positive relationship with one's self, then you can do anything to reach for your aspirations and goals and achieve them as you see fit.
Q: What are the things you do each day that make you a 'Wellness Warrior'?
Anyone can be a "Wellness Warrior" but in my opinion and the things I do every day that may define me to be a wellness warrior would be that I smudge each and every day to cleanse myself and prepare myself for the day ahead. I try to drink water whenever I can and always try to move whenever I have spare time. This can include stretching, running, working out or even dancing!
Q: Who or what is your inspiration?
I think my inspiration would be my ancestors. Knowing that they have done all this work and living through many experiences to keep our sacred and traditional ways of life alive, show and teach me to respect my culture and traditions which ultimately give me the boost that I need to make it through my everyday life. Knowing that they have touched the ground I run on and breathed the air that I inhale, keeps me motivated to reach for my goals and push forward.