JONEL BEAUVAIS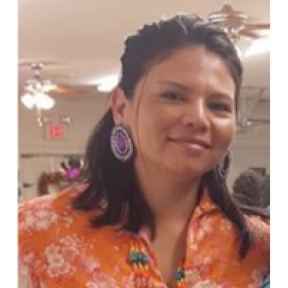 Jonel Beauvais is a Mohawk woman, proud mother of three children and chosen auntie, sister and friend to many. She is a community outreach worker for the Seven Dancers Coalition in her home community of Akwesasne. The Seven Dancers Coalition seeks to educate Tribal communities and service providers through training and presentations on Sexual Assault, Domestic violence, Campus Safety, Teen Dating, Sex Trafficking and Stalking. She has dedicated four years as Lead Auntie for all the girls entering their first year of fasting in Oheronkon "Under the Husk", which is the Rights of Passage for youth in Akwesasne. Jonel is a seasoned volunteer dance teacher with the St. Regis Recreation Dance Club, and a member to the Neh Kanikonriio Council, a Restorative Justice initiative that integrates Indigenous ways of mediation to reduce incarceration and provide a more interpersonal means of healing.
What is the role of sport/physical activity in your life?
Working on my physical wellbeing is new and has taken some work emotionally and spiritually. I sent out a prayer for myself last year at Sundance that I would be better to my body and start making amends with all the neglect that I knew I had been inflicting on myself. I had come to learn my physical body was a painful place, due to violence and the not having had much influence in my life around taking care of me as an individual. Like most, I grew up fast and didn't appreciate the health of my mind, body and spirit. Being able to make strides with coming to terms with why it was so difficult to love my body came from places of being used or and not knowing how to be respected. I really am happy that I have started this journey in my life and that I get to make better choices that so my grandchildren will be healthier people too. I have always been inspired by our youth who have a better sense of themselves because of their dedication to their sport and the self-discipline in taking better care of their bodies
How do you define wellness?
How you live your life with appreciation. Your connection with Creation. Living and speaking your truth. Wellness is also about being gentle with yourself, we have beautiful ways that in essence always showed us the pathways to wellness. That before anything important we start with giving gratitude (Thanksgiving Address). When you can appreciate the small things and the hardships, you can bring validation to the strength of your spirit and meaning behind your light in this world. That duality is necessary and a gift we can only hope to continue to wake up to!
What are the things you do each day that make you a "Wellness Warrior"?
I try every day to listen, show up to whatever the day asks of me. To stay true to myself, my vision, my prayers. To let people know that someone cares and exemplify that taking accountability for your community is one of the most challenging but fulfilling responsibilities life has to offer. So many suffer silently in all kinds of ways and my prayer is that our communities can restore the wellbeing of the families it is compiled of and begin to cleanse the future of our people so that we may no longer have to continue these horrific generational cycles of abuse and trauma.
Who or what is your inspiration?
I would have to say honestly I use my mistakes as motivation to do something different. I have a nice long list like most, of hardships and lessons learned. All of which taught me humility and understanding. My pain gave me insight into the meaning of how I truly wanted to conduct my life, how I wanted to feel and who I knew I wasn't. I was every statistic that somehow beat the odds of not drowning in my circumstances. Been hurt and saved many times. Only to realize that trials are necessary for tribulations. That all the love shown to me throughout my life was real and crucial for my spirit. And that bringing three special beings into this world was the greatest blessings the universe gave to me. I know I wouldn't be alive if it wasn't for them. Every person in that has entered my life has inspired to either be more of who I really am or shown me who I didn't want to be.
What excited you most about the Masters Indigenous Games?
To see the fruition of those who worked hard for us to have events and celebrations like these for our Indigenous people. It is beautiful how the narrative changes for this generation, that we can say we rewrote our history with accomplishments like the Masters Indigenous Games. There is another historical event to rejoice and take pride in for our people. That in spite of everything we are still here following our ways of making the road brighter for those yet to come.