TIM SMOKE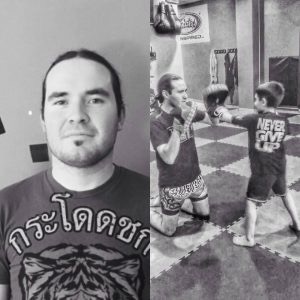 Timothy Smoke is a member of the Mississaugas of Alderville First Nation. Since 2012 he has been a practitioner of Muay Thai, which is a combat sport (martial art) that has been developed in Thailand. It is known also as "the art of eight limbs" because both hands, elbows, knees, and legs can be used to attack an opponent. Currently, Timothy is an assistant teacher & leader to the child and youth programs at Dohjo Muay Thai & Fitness, located in Peterborough, Ontario.
What is the role of sport/physical activity in your life?
Starting at a young age, Hockey & Baseball were always a favourite for my family, especially playing in the little NHL; even if it meant running the roads with a van filled with all my cousins every March. Sports have always been a gathering for my entire family especially my Grandfather, whom would corral my aunties & uncles to go cheer us on each time we played. Now that I'm older, Muay Thai is at the forefront as it provides me with a balance and a sense of humility that guides my approach for day to day living with clear objectives and effective intention. While at the same time test my discipline each day for improvement.
How do you define wellness?
It begins with being aware of what impacts our bodies take: nutritionally, physically, and the underlying spirituality.  By living a life on the "Red Road" it asks us to be less selfish of our bodies and choose to be more mindful of our actions in order to be a healthy, better person each day.
What are the things you do each day that make you a 'Wellness Warrior'?
I always plan for the day or week ahead nutritionally as well set a mental game plan to focus on. Whether I'm inside or outside of the gym, this may include techniques I should be working on or maybe a part of my body that needs improvement to ensure I am utilizing my full range of motion.
Who or what is your inspiration?
When I was kid, I always looked up to being like Ted Nolan or even Darren Zack because my uncles would always travel to watch him pitch in Softball tournaments. Today my inspiration is my son Garrett. Even though he is just 2 years old, I want to enjoy as much as I can out of life with the time that we have been given because time definitely flies when you have your own children and I want to be able to keep up as he gets older.
What excited you most about the Masters Indigenous Games?
It's not just seeing indigenous people compete, but seeing it done on a platform that allows our people to come together and cheer each other on, even though some people may win and lose, it's knowing that we have opportunities like the Indigenous Masters Games that encourage our athletic spirit to push boundaries. That's the real victory.