MIKE ALEXANDER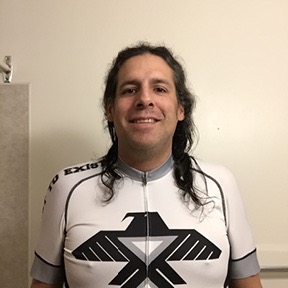 Mike Alexander is an Anishinaabe endurance athlete. He is a sixties scoop survivor who has transformed his life through cycling and triathlon. In 2017, Mike pedalled 7000km, completing events like the Tour De Victoria 160km ride. In 2018, Mike continues to defy stereotypes and negativity having completed his first Sprint distance Triathlon, and had become sponsored by Easton Cycling and Lusso Bikes. He has also begun sharing his story in public. Mike understands the interconnection between mind, body & spirit and sees a link between his Indigenous culture and the pursuit of athletic achievement.
What is the role of sport/physical activity in your life?
Cycling is an integrated part of my life and has been for about four years now. I used cycling as a way to lose 130lbs, to help with my recovery from alcoholism and to start managing my type 2 diabetes once it was diagnosed. I commute to work, I participate in road cycling events and push myself as an endurance athlete. I have added swimming and running to my routine so that I can participate in my first Triathlon in 2018. Sport is a central aspect of my lifestyle. It allows me to feel good about myself, while I explore my limits and then smash them.
How do you define wellness?
Wellness is about one's physical health. It's about a persons' emotional or mental health, and the more I think about it, it plays a role in ones' spiritual wellbeing. I understand that all three of these aspects are related. The better I feel about myself, the better I perform. The harder I train, the more confident I am. I see a strong connection between the mind and body in term of wellness. I aim to take care of both. Wellness is about feeling good about yourself and feeling motivated to make positive steps in your life.
What are the things you do each day that make you a 'Wellness Warrior'?
I try to make time for an hour of physical activity each day. Doing so makes me extremely hungry, so I eat a vegetarian diet and try to find a balance between all of my nutritional requirements. I don't punish myself for having a slice of pizza, but I do make sure that I do things like eat a smoothie and fresh veggies as well as good protein every day. Exercise means I have to make sure I drink lots of water and get enough sleep. I love eating and sleeping, so I really focus on these two things.
Who or what is your inspiration?
I am inspired by people I see who are beginning their own fitness journey. These are people who want to see success in their own lives, who will overcome so many challenges, and who will become warriors. They will learn to train hard and feel amazing about their progress and remind me, that I too have only just begun reclaiming and decolonizing my own life.
What excites you about the Masters Indigenous Games?
I am excited about the Masters because I want to see Indigenous people excel at their chosen sport. I know how hard training can go, how all those long, lonely hours and grueling training programs aren't appreciated or noticed. The Games gives the spotlight to these warriors who are at their best, who have been so patient and courageous and determined to take their skill and dream to this level. It's going to be a real eye-opening and inspiring experience for everyone.