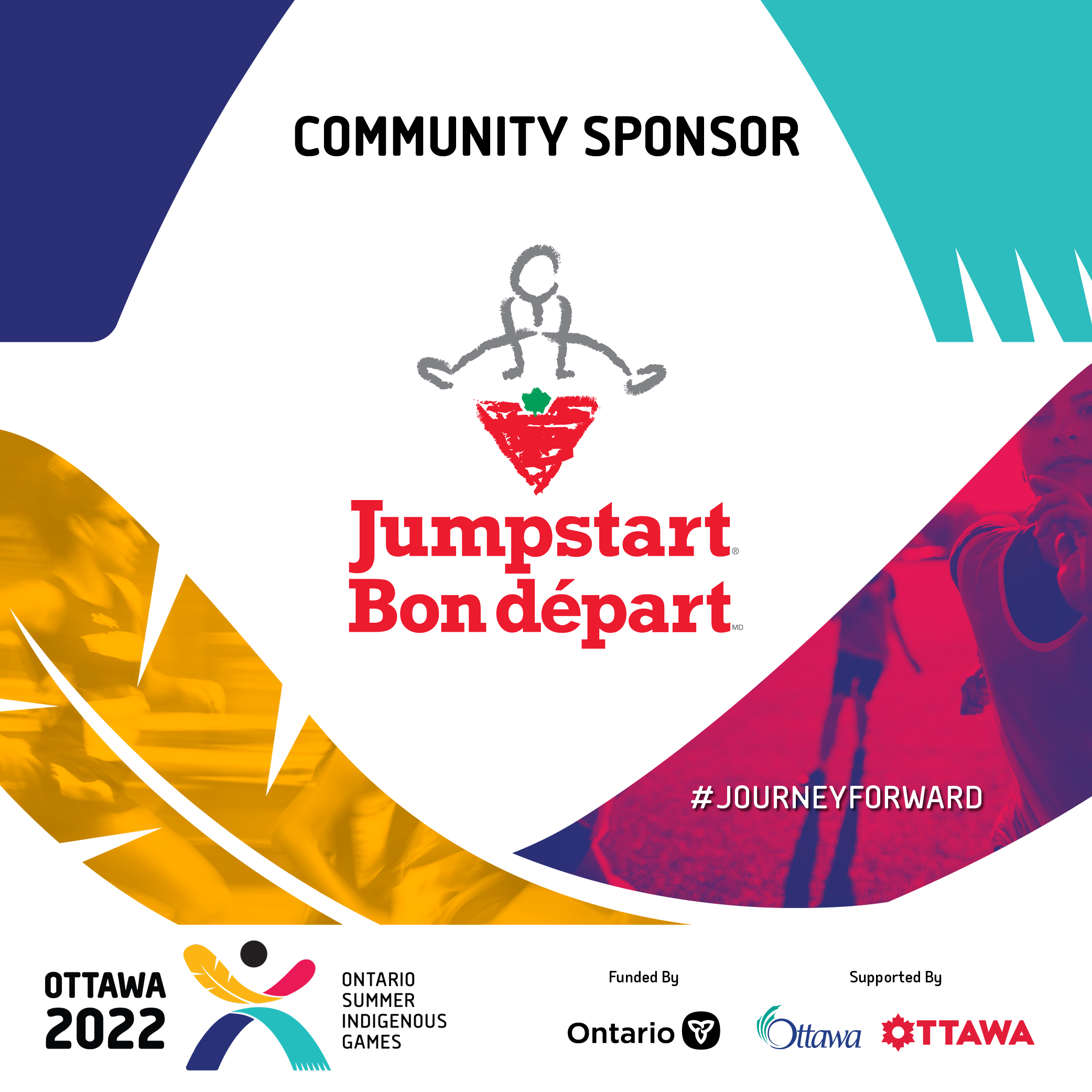 CANADIAN TIRE JUMPSTART CHARITIES 'JUMPS' ON BOARD AS A PROUD SUPPORTER OF THE 2022 ONTARIO SUMMER INDIGENOUS GAMES
Jumpstart plays a significant role as a community partner, for the first major sport event hosted by Indigenous Sport & Wellness Ontario (ISWO), since the COVID-19 global pandemic.
Mississauga, Ontario – June 23, 2022 – The 2022 Ontario Summer Indigenous Games (OSIG) organizing committee is a proud recipient of a Community Development Grant from Canadian Tire Jumpstart Charities (Jumpstart). With Jumpstart's support, ISWO will be able to deliver provincial level Games for hundreds of Indigenous youths from across the province of Ontario. The 2022 OSIG will also act as an athlete development opportunity and an athlete identifier for the 2023 North American Indigenous Games – the pinnacle event in Turtle Island's Indigenous sport pathway for youth 19 years of age and under – set to take place next year in Kjipuktuk (Halifax), Dartmouth and Millbrook First Nation, Nova Scotia.
"It's amazing to see the support for our youth and communities, not just in terms of funding, but in how organizations are eager to work collaboratively and enhance opportunities for youth to play sports," said Marc Laliberte, President of Indigenous Sport & Wellness Ontario. "Everyone understands just how much the COVID-19 pandemic has affected the mental health of youth – especially those youth residing in remote and northern communities. Hosting the 2022 OSIG this summer is an incredible dream come true. The emphasis will simply be on kids coming out to play sport, develop their skills, meet our NAIG coaches and have fun, while celebrating who they are as Indigenous Peoples. Our kids and communities need this more than ever. It's important to showcase a positive pathway for youth as they journey forward in their lives." 
Indigenous Sport & Wellness Ontario (ISWO), the official Provincial/Territorial Aboriginal Sport Body (P/TASB) for Ontario, is no stranger to delivering amazing sporting and cultural events. The organization hosted the Toronto 2017 North American Indigenous Games, which saw more than 5,000 young Indigenous athletes hailing from across North America ('Turtle Island') participating in 14 sports, and the 2018 Masters Indigenous Games, an international event, which celebrated Indigenous cultures and sport with 600 athletes from around the world. So, it shouldn't come as surprise then, that coming out of a challenging two-and-a-half years of pandemic restrictions and limitations on in-person programming, the organization is ready to host a Games that celebrates the unique cultural traditions and history, alongside the incredible athletic achievements of Ontario's Indigenous youth. 
Jumpstart is a national charity committed to ensuring kids across Canada have equal access to sport and recreation. Jumpstart provides funding to selected organizations for recreational infrastructure and programming  – such as the 2022 OSIG – in an effort to provide kids of all abilities with access to the benefits of play. Since 2005, Jumpstart has given more than 2.7 million kids across Canada the opportunity to get in the game. For more information, visit jumpstart.canadiantire.ca.
Along with Jumpstart, ISWO understands the role sport plays in the health and well-being of kids and families and are doing everything possible to help community sports reignite after an almost two-and-a-half-year hiatus from in-person sport events, tournaments, and games.
The 2022 OSIG is Indigenous Sport & Wellness Ontario's first major event in a "post-COVID" world, and the excitement is palpable. Families are eager to have their kids back out playing a game they love, while making memories and friendships that will last a lifetime. 
Ontario Summer Indigenous Games Quick Facts:
The OSIG is an important step in the sport development pathway for Indigenous youth. For more information about the 2022 OSIG, please visit https://osig.iswo.ca/.
The OSIG was founded by Indigenous Sport & Wellness Ontario (ISWO), the official Provincial/Territorial Aboriginal Sport Body for Ontario. For more information about ISWO, please visit www.iswo.ca. 
The 2022 OSIG are generously funded by the Government of Ontario, through the Ministry of Heritage, Sport, Tourism and Culture Industries, and supported by Ottawa Tourism and the City of Ottawa. 
CBC is the official media partner of the 2022 OSIG.
###
Acknowledgement
ISWO honours the traditional lands and homelands of all Indigenous Peoples and communities across the province of Ontario, including First Nations, Inuit and Métis living both on and off reserve, in rural and urban communities.
Contact Information
Abby Shirazi
Director of Marketing and Communications, ISWO
Abidah.Shirazi@iswo.ca