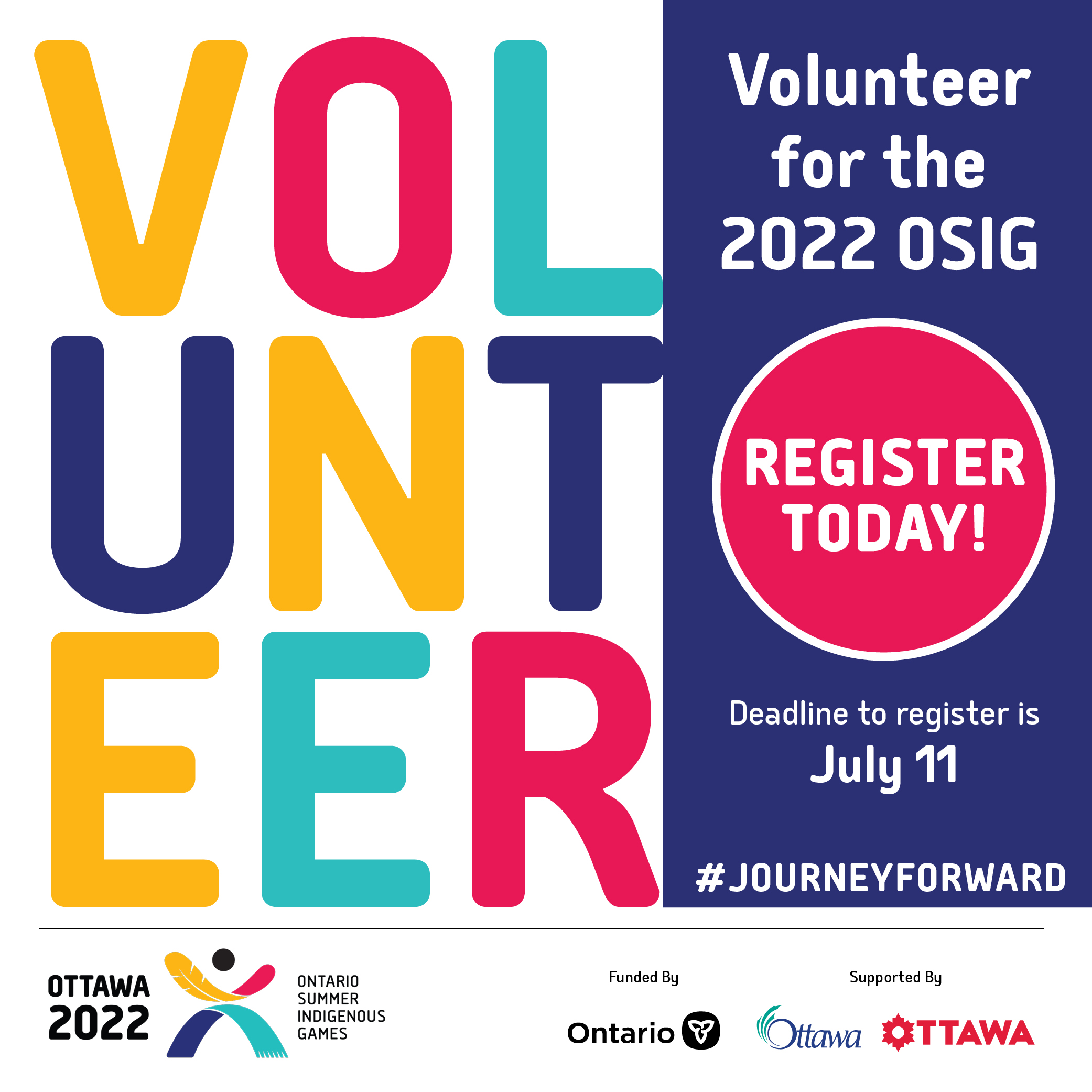 VOLUNTEER REGISTRATION FOR THE 2022 ONTARIO SUMMER INDIGENOUS GAMES IS NOW OPEN
JOURNEY FORWARD THIS JULY, AND VOLUNTEER WITH THE 2022 ONTARIO SUMMER INDIGENOUS GAMES
Volunteer registration is now open. Celebrate Indigenous culture and sport achievements with the 2022 OSIG in Ottawa, this July. 
June 24, 2022 – Ottawa, Ontario – Indigenous Sport & Wellness Ontario (ISWO) announced today that registration is now open for volunteers, aged 16 and over, interested in giving-back to an event that will support hundreds of Indigenous youths from across the province, to access competitive sport opportunities. 
The 2022 Ontario Summer Indigenous Games (OSIG) are scheduled to take place this summer from July 28-31 in the City of Ottawa, and will act as an athlete identifier for the 2023 North American Indigenous Games. To ensure a world-class experience and a successful outcome, organizers are currently seeking approximately 200 volunteers, across 12 roles, to take part in this unique event. Volunteers do not require any prior experience in sport delivery, Indigenous knowledge, or other technical skills to apply; the only thing that's needed is passion, time, and an interest in supporting sport participation.
"Volunteers are truly the heart of any event," said Crystal Gionette, Director of Engagement, Policy and Operations with ISWO. "Everyone is so excited about these Games, as it's the first major in-person event ISWO is hosting since COVID hit. We've got athletes and families coming from all regions of the province, to celebrate sport and culture, in a truly unique event that will create lifelong memories for these youth. But we can't do it alone. We need the help of dedicated volunteers who are willing to give of their greatest gift – their time and passion. Our team is committed to doing everything we can to ensure that volunteers have a great experience, and maybe with some additional knowledge and/or understanding of Indigenous peoples and communities in Ontario. Sport is one of the best platforms for building bridges, initiating conversation and creating connections. Sport is also good medicine. It heals and gives hope, and that's what communities need at this time."
Volunteers who sign-up for the 2022 OSIG, will have the chance to make new friends, gain rich experiences and share their skills, all while learning more about Indigenous cultures and communities from across Ontario. 
Volunteers will be assigned shifts based on their interests and preferences (when and where possible), and their availability, and are asked to commit to a minimum of two, four-hour shifts to qualify. 
All selected volunteers will receive a free uniform, including a hat, t-shirt and accreditation, free Games swag and other items. Volunteers will also receive a meal for each 4-hour shift completed and are invited to take part in the community feast and closing ceremonies on Sunday, July 31, alongside athletes and Games staff.
For more information about the Games, visit https://osig.iswo.ca/. To register as a volunteer, simply click on the Volunteer Registration button found on the website and submit the required information. The 2022 OSIG Organizing Committee will be in touch regarding screening, training, role expectations and shifts. The deadline to register as a volunteer for the 2022 OSIG is Monday, July 11. 
ABOUT THE 2022 OSIG
The Games will bring together and showcase the many athletic talents of Indigenous youth from across Ontario. Youth from communities, tribes and nations from all regions of the province are expected to attend, along with their chaperones, teammates, friends and families.
The OSIG, hosted by  Indigenous Sport & Wellness Ontario (ISWO), and funded by the Government of Ontario, are an important step in the sport development pathway for Indigenous youth.
Ontario Summer Indigenous Games Quick Facts:
The OSIG is an important step in the sport development pathway for Indigenous youth.
The OSIG was founded by Indigenous Sport & Wellness Ontario (ISWO), the official Provincial/Territorial Aboriginal Sport Body for Ontario. For more information about ISWO, please visit www.iswo.ca. 
The 2022 OSIG are generously funded by the Government of Ontario, through the Ministry of Heritage, Sport, Tourism and Culture Industries, and supported by Ottawa Tourism and the City of Ottawa. 
CBC is the official media partner of the 2022 OSIG.
###
Acknowledgement
ISWO honours the traditional lands and homelands of all Indigenous Peoples and communities across the province of Ontario, including First Nations, Inuit and Métis living both on and off reserve, in rural and urban communities.
Contact Information
Abby Shirazi
Director of Marketing and Communications, ISWO
Abidah.Shirazi@iswo.ca