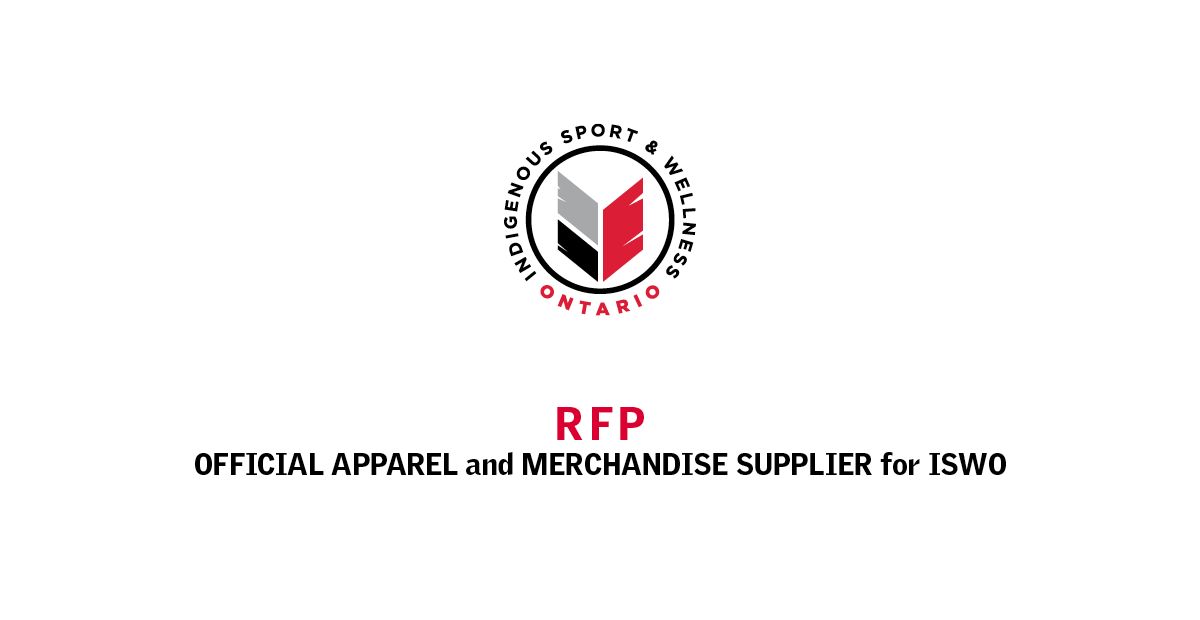 RFP OFFICIAL APPAREL and MERCHANDISE SUPPLIER for ISWO
Introduction
ISWO is seeking an "Official Apparel and Merchandise Supplier" (the "Supplier") to support the needs of various programs and initiatives, including outfitting Team Ontario for competition at the North American Indigenous Games, the National Aboriginal Hockey Championships, the Ontario Indigenous Games and the Masters Indigenous Games. The current RFP wishes to set up a fair evaluation process for all parties and to provide interested vendors with the necessary information to prepare their proposal(s) (the "Proposal").
The document linked below is the RFP details document, for the "Official Apparel and Merchandise Supplier" for Indigenous Sport & Wellness Ontario (ISWO).
THE DEADLINE TO SUBMIT PROPOSALS HAS PASSED.
Timeline and Responses to the RFP
All bid applications must be sent to info@iswo.ca to the attention of Daniel Smith, Operations Manager or by mail to: Indigenous Sport & Wellness Ontario (ISWO) 1090 Aerowood Drive, Unit #1A Mississauga, Ontario L4W 1Y5
Interested vendors are asked to submit their Proposal by 5:00 PM (local Toronto time) on Tuesday, February 25,  2020, at 5:00 PM est. Questions arising prior to the deadline can be addressed to the email address outlined above. Should a prospective Supplier wish to respond with other partners or as a group, one prospective Supplier should act as the single contact to ISWO in order to compile all relevant elements into one proposal. ISWO, will review all submissions of Proposals and announce the winning Proposal on Monday, March 9, 2020.