Michelle-Lynn Kennedy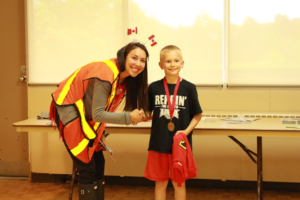 Michelle-Lynn Kennedy, from Oneida Nation of the Thames with mixed settler ancestry. London, Ontario. I am a teacher, and currently a full-time student in the Masters of Indigenous Relations Program at Laurentian University. I recently competed in Toronto at the MIG in the track events. In my undergraduate studies, I was a varsity athlete on the women's Cross-Country and Track team and my favorite race was the 6km in XC. I recently took up rowing and I am on the Novice team at Laurentian University in Sudbury, Ontario.
What is the role of sport/physical activity in your life?
I haven't always had organized sport in my life, but I have always loved running and I am also very competitive! The role of sport and physical activity acts as many things in my life: a stress reliever, a time to hang out with friends, it allows me to self-reflect, and teaches me how to balance life. I think sports/physical activity is an excellent tool to teach you about yourself.
How do you define wellness?
I think wellness simply means living a balanced life. I have been taught to give time to each aspect if my self, physically, emotionally, spiritually, and, mentally. It is hard as an athlete and especially as a student-athlete with many family responsibilities to maintain a balanced life, so I just take one day at a time.
What are the things you do each day that make you a 'Wellness Warrior'?
I work every day to be a Wellness Warrior and it is not limited to exercise. I think being a Wellness Warrior means taking care of all aspects of your health and reaching out to your relations (family and community) to encourage them to be healthy too. It is keeping hydrated, getting enough sleep, eating healthy (my weakness is pizza and chips), setting concrete goals for myself and steps to reach them, being kind to myself and others, taking care of family, and making time to do the things I love.
I am a Wellness Warrior because I encourage others to challenge themselves! Even if it is just trying something new for the first time. I have coached track and cross-country with youth ages 7-13. I always let the youth know their potential, encourage them to be the best athletes they can be, and support them in their athletic journey.
Who or what is your inspiration?
All the women who faced intersectionality of race and gender before me, by being Indigenous and women, and challenged those who did not allow them to compete in organized sports.
My best friend Katie Lloyd-Wismer is one of my biggest inspirations for many reasons, but mostly because she runs in any weather from -30 to +40 degrees. I can always count on her to send me a text during a snowstorm to go for a run or text a weekend trip for a race.
My mom, Debra Kennedy, who always told me how fast she was in cross-country, in her youth, and how she could beat all the boys in races.
My nephews and nieces who are always watching me. I want them to know that being active as an adult is fun and you can challenge your personal limits at any age.
Dick Moss and Darren Jermyn, two of the best coaches I have had the privilege of working with as an athlete. I hope to be as great of a coach as Dick and Darren are!