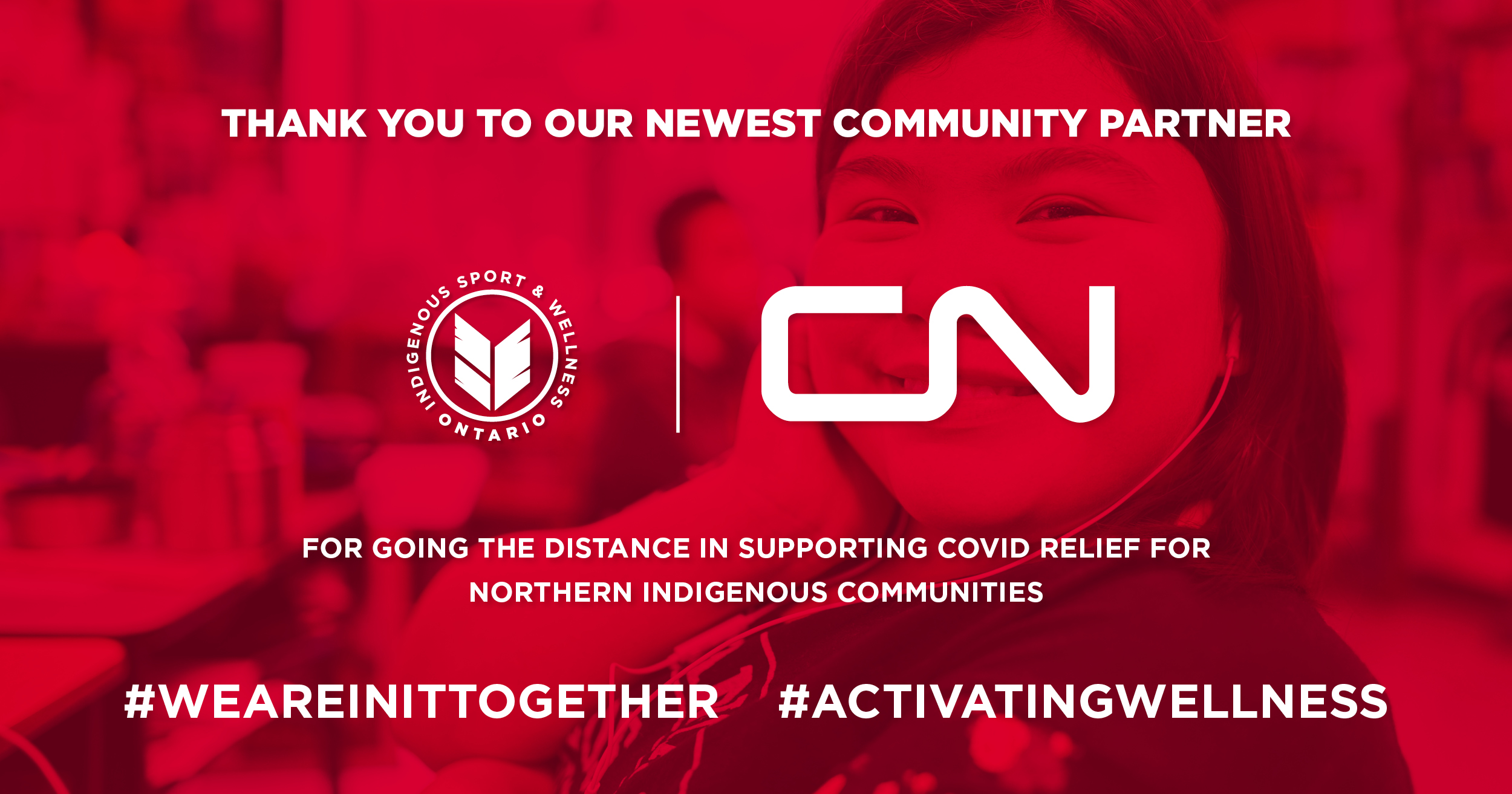 CN PROVIDES VITAL LOGISTICAL SUPPORT FOR COVID RELIEF EFFORTS FOR THE NORTH
CN PROVIDES VITAL LOGISTICAL SUPPORT FOR A MAJOR COVID RELIEF EFFORT FOR NORTHERN INDIGENOUS COMMUNITIES
COVID relief efforts forge new partnerships and pathways to reconciliation.
Mississauga, Ontario – April 21, 2021 – When Marc Laliberte, President of Indigenous Sport & Wellness Ontario (ISWO) first learned of a call from Ornge, Ontario's provider of air ambulance and related critical care transport services, and Nishnawbe Aski Nation (NAN), to ISWO on a Thursday before the family day long weekend this past February, he never thought for a moment that ISWO would become a leading participant in coordinating the warehousing, transportation and distribution of over $1 million worth of donated health care products from Unilever Canada Inc., intended for Ontario's northern Indigenous communities. But when the ask came, ISWO couldn't refuse.
The generous donation from Unilever included:
• 82 pallets of antibacterial wet wipes (comprised of approximately 4,200 cases and 130,000 individual wipes);
• 59 pallets of hand sanitizer (comprised of approximately 4,100 cases and 49,000 individual bottles); and
• 54 pallets of hand wash (comprised of approximately 4,100 cases and 49,000 individual bottles).
It's been a pattern and focus of ISWO long before COVID-19, but amplified and moved beyond the confines of sport, to support the immediate needs felt by Indigenous families and communities in Ontario, as a result of the global pandemic. With all in-person sport, leadership and wellness programming on-hold, ISWO, like everyone else, had to pivot and seek new ways to help support the youth, families and communities the organization serves. Instead of basketball tournaments and leadership camps, the organization looked to securing, transporting and delivering much needed food products, household items, PPE, personal hygiene supplies and sport equipment to Indigenous families across the province. ISWO has also created a range of programs that are delivered online and through kits, mailed to families and communities, across Ontario.
"ISWO is Ontario's provincial sport organization, with a mandate to support the wellness of Indigenous Peoples in Ontario," said Marc Laliberte, President of ISWO. "We have always understood though, that our role went beyond sports and wellness; at the end of the day, our programming saves lives and creates new positive pathways. It wasn't a reach therefore, to turn our attention to the immediate needs of those we serve and respond to a request for help. This past year, we've learned more about logistics, trucking, transporting and warehousing than we will probably ever need to know, but it's been very rewarding, and I'm so proud of the ISWO team. The relationships we are building now, will continue to support ISWO's work as we move forward post COVID, with greater capacity and opportunities for those we serve. We look forward to getting back on the courts and the fields, to play sports with the kids and connect with them in-person."
The work ISWO has done and the role the organization continues to play, is in large part due to the support, understanding and flexibility of its funders, both at the Government of Canada, through Sport Canada, and the Government of Ontario, through the Ministry of Heritage, Sport, Tourism and Culture Industries, which has allowed ISWO to continue to do it's work in supporting the wellness of Indigenous youth and communities, albeit through different mediums.
The story is not unique. Families, communities, organizations, governments at all levels, and corporations, have had to change the way things are done and adjust to a new shared reality. And while COVID-19 has been detrimental in so many ways, it has also brought to light, an opportunity for collaboration, and hopefully, a new path towards acknowledgement and reconciliation.
So, when that phone call came, Laliberte directed the organization to spring into immediate action. Within a few days, ISWO was able to secure a warehouse space large enough to house the donated shipment of approximately 200 skids of product and start working on a plan to distribute the goods to NAN communities.
The only question that remained was how to get it there? That's when ISWO reached out to its network of partners and asked for help. Trucks for Change, an organization that donates truck space to distribute donated goods on behalf of charities to help those in need, stepped up. However, given the size of the donation and the distance to have it transported from Mississauga to Thunder Bay, such a logistical operation was outside of the scope that Trucks for Change could support single-handedly. That's when a conversation with CN changed the game and allowed ISWO to breathe a sigh of relief.
CN jumped on board and confirmed that it would coordinate the transportation of the donated goods from ISWO's Mississauga warehouse to a facility that NAN had secured in Thunder Bay, Ontario, at no cost. The donation, valued at more than $35,000 in transportation and logistics costs, came just in the nick of time. With COVID-19 cases on the rise and the province entering another month-long lockdown, communities, especially Indigenous communities located in northern and remote areas of the province, are in dire need of items to help stop the spread and keep people safe.
Through this important partnership, CN provided transportation for five loads of product, with a total weight of roughly 363,600 lbs (or 164,926 kgs), covering 1,650 miles (450 miles by truck and another 1,200 miles by rail) per load, for a total of 8,250 miles.
"We are all living through unprecedented times and the impacts of the current pandemic are affecting communities across the country," said Thomas Hennig, Director of Trucking Operations at CN. "Being a good neighbour to the communities in which we operate is important to us at CN. When the opportunity arose to help our partners of Indigenous Sport & Wellness Ontario, we were very pleased to be part of this and to use our network to quickly and safely help get critical personal protection products to the northern Indigenous communities that need them."
Indigenous Sport & Wellness Ontario (ISWO) Quick Facts:
• ISWO is the designated Provincial/Territorial Aboriginal Sport Body (P/TASB) for the province of Ontario, funded through the Ontario Ministry of Heritage, Sport, Tourism and Culture Industries and Sport Canada.
• ISWO serves all Indigenous Peoples and communities across Ontario, including First Nations, Inuit and Métis, living on and off-reserve, in rural and urban settings, encompassing more than 350,000 Indigenous Peoples in the province.
• ISWO promotes and creates opportunities for participation in sport and cultural activities that promote wellness and positive lifestyles for Indigenous Peoples across Ontario.
• ISWO is recognized by the Aboriginal Sport Circle (ASC) and the North American Indigenous Games Council, and is the designated sport body for the development, selection and management of Team Ontario, which participates in the National Aboriginal Hockey Championships and North American Indigenous Games.
For more information about ISWO, visit iswo.ca.
###
Acknowledgement
ISWO honours the traditional lands and homelands of all Indigenous Peoples and communities across the province of Ontario, including First Nations, Inuit and Métis living both on and off reserve, in rural and urban communities.
Contact Information:
Indigenous Sport & Wellness Ontario (ISWO)
Abidah Shirazi
ISWO, Marketing & Communications Lead
abidah.shirazi@iswo.ca
(m): 416-825-3348
CN
Daniel Salvatore
Manager, Public Affairs
daniel.salvatore@cn.ca
(m): 647-544-3368