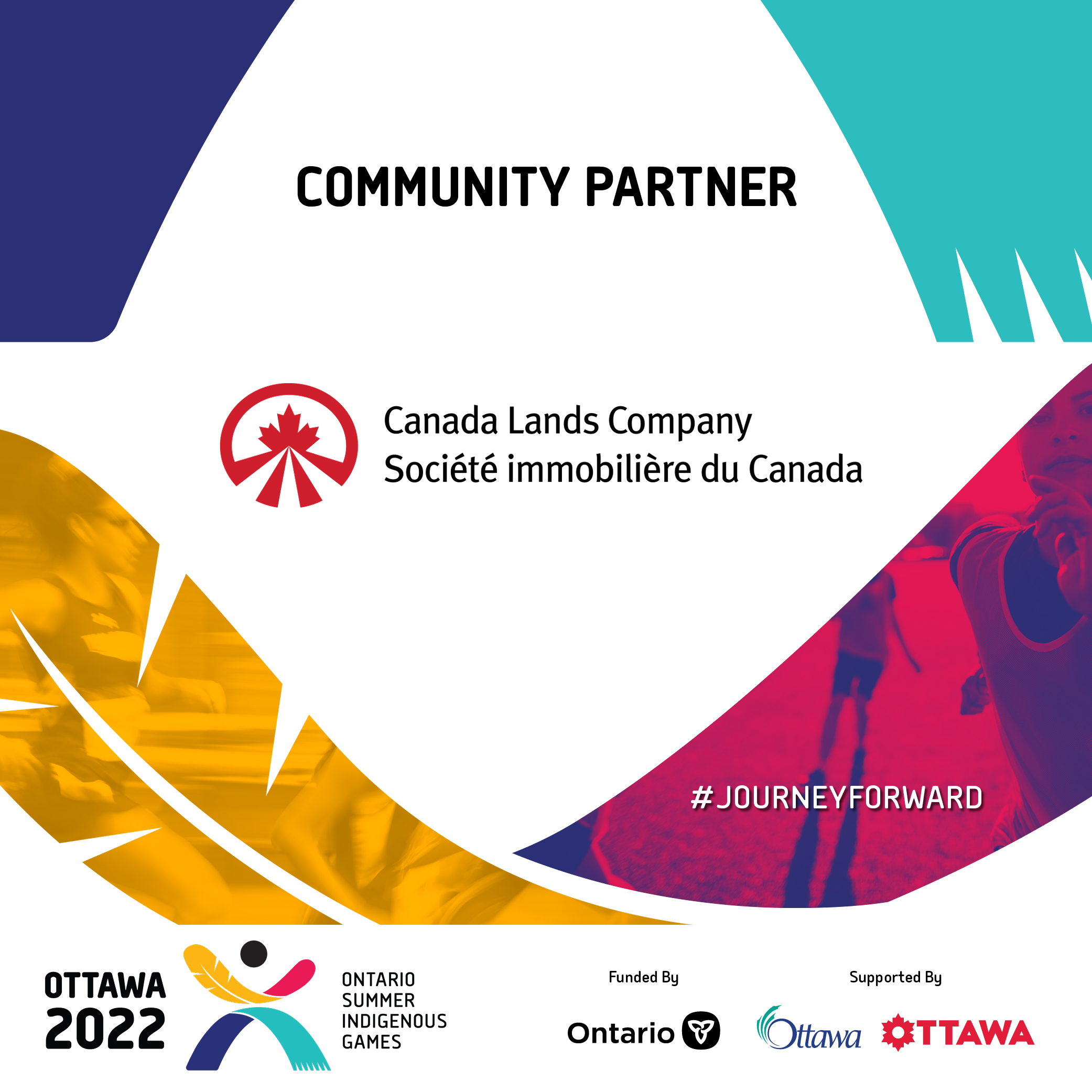 CANADA LANDS COMPANY A RETURN PLAYER WITH A KEY SPONSORSHIP FOR THE 2022 ONTARIO SUMMER INDIGENOUS GAMES
Indigenous Sport & Wellness Ontario (ISWO) is pleased to announce Canada Lands Company as a Community Partner, for the provincial youth sporting event.
Mississauga, Ontario – July 25, 2022 – Canada Lands Company has signed on as an official Community Partner for the 2022 Ontario Summer Indigenous Games (OSIG), scheduled to take place from July 28 – 31 in the Nation's capital. Although this will be ISWO's first in-person sporting event since the beginning of the COVID-19 pandemic, it's not the first time Canada Lands Company and ISWO have teamed up to deliver an impressive sports and cultural event, supporting Indigenous athletes and communities. In 2018, Canada Lands Company played a major role in sponsoring the event and hosted a large portion of the Masters Indigenous Games (MIG), including the Cultural Village, Medal Ceremonies, Basketball, Volleyball and Athletics at its Downsview Park facilities.
"We are so thrilled that Canada Lands Company has returned as such an important partner, to support Indigenous sport and culture in such a meaningful way," said Marc Laliberte, President of Indigenous Sport & Wellness Ontario. "The relationship that was developed during the 2018 Masters Indigenous Games, was one of great collaboration and genuine teamwork. Canada Lands Company not only provided a sizeable sponsorship and access to key venues, but stepped up by creating awareness, enhancing promotional efforts and cheering on the athletes, volunteers and organizers throughout the event – and nothing has changed – Canada Lands is on top of their game, with a partnership that is sure to result in a great event for all attendees."
Canada Lands Company enriches Canadians communities and experiences by embracing the potential of the places and spaces it owns and operates while curating memorable experiences. The Company holds, invests in and manages world-renowned Canadian attractions with a commitment to engagement, sustainability, integrity, diversity and the highest standard of ethical behaviour. It develops communities with the future of Canadians in mind. The Company's neighbourhoods are designed for long-term viability, sustainability and enjoyment, while its attractions continually offer unforgettable experiences. Canada Lands isn't simply shaping a Canada for today; it is thinking bigger to shape Canada's tomorrow. A vital part of that work is supporting communities and a future that is inclusive and celebratory of Canada's Indigenous Peoples.
About Canada Lands Company
Canada Lands Company is a self-financing federal Crown corporation that specializes in real estate development and attractions management. Since 1995, Canada Lands has enriched Canadian communities and experiences by embracing the full potential of the properties it owns and operates. Canada Lands is a leader in attractions management with its operations of the CN Tower and Downsview Park in Toronto, the Old Port of Montréal and the Montréal Science Centre. Canada Lands Company strives to enhance economic, social and environmental value for Canadians. It has delivered more than $1 billion in economic benefits to Canada since its inception. clc-sic.ca
About the Ontario Summer Indigenous Games
Hosted and developed by Indigenous Sport & Wellness Ontario (the official Provincial/Territorial Aboriginal Sport Body for Ontario), the Ontario Summer Indigenous Games will bring together hundreds of Indigenous youths from across Ontario to celebrate Indigenous culture and participate in sport. There will be sports competitions across the multi-day event, as well as opening and closing ceremonies and a community feast.
The OSIG are an important step in the sport development pathway for Indigenous youth and will give Indigenous athletes the opportunity to compete at a provincial level, while mastering their sport specific skills. The Games also serve as an identifier for athletes who aspire to compete at the North American Indigenous games, scheduled to take place in 2023.
Ontario Summer Indigenous Games Quick Facts:
The OSIG is an important step in the sport development pathway for Indigenous youth.
The 2022 OSIG are generously funded by the Government of Ontario, through the Ministry of Tourism, Culture and Sport, and supported by Ottawa Tourism and the City of Ottawa.
The 2022 OSIG Athletes Village will be located at University Square on the University of Ottawa campus. Youth are invited for guided tours of the campus, 3D printing workshops, and a recreational volleyball event at Mooney's Bay Beach.
CBC is the official media partner of the 2022 Ontario Summer Indigenous Games.
###
Acknowledgement
ISWO honours the traditional lands and homelands of all Indigenous Peoples and communities across the province of Ontario, including First Nations, Inuit and Métis living both on and off reserve, in rural and urban communities.
Contact Information
Hilary Ostrom
ISWO Manager, Marketing and Communications
Hilary.Ostrom@iswo.ca