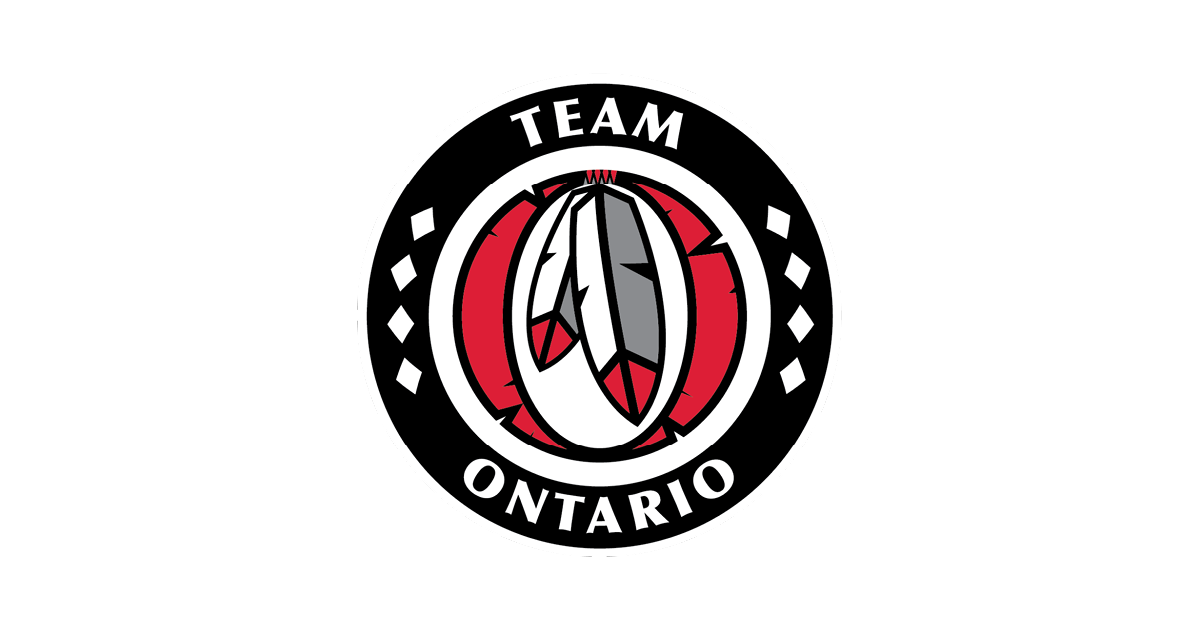 Women's Team Ontario Wins Bronze at the National Aboriginal Hockey Championships (NAHC) in Whitehorse, Yukon
The journey to compete at the 2019 NAHC is an experience Indigenous youth carry forward to future successes, both on and off the ice.
Whitehorse, Yukon – May 24, 2019 – It was hugs all around, as players from Team Ontario said goodbye to new friends, arriving back in Ontario after having spent more than ten days competing at the National Aboriginal Hockey Championships (NAHC) in Whitehorse, Yukon. Women's Team Ontario, which included First Nations, Métis and Inuit players from across the province, took home a well-earned bronze medal and despite Men's Team Ontario not making it to the podium, there was an abundance of amazing plays, great sportsmanship and friendships created on and off the ice – an experience the young Indigenous athletes will carry forward for a lifetime.
"I haven't seen Brody with a smile like that on his face in a very long time.  He had the time of his life and made of course many new friends once again," said Lori Etmanskie, Brody Belanger's mom, whose son played on Team Ontario's Men's team at the 2019 NAHC. "I wasn't at the airport to pick him up but another mom did and sent me a text saying the boys were all hugging when they got off the plane."
The tournament, organized by the Aboriginal Sports Circle with support from individual Provincial/Territorial Aboriginal Sport Body's (P/TASB), did just that; with a welcoming atmosphere and inclusion of Indigenous culture throughout, the annual tournament brought together 18 teams of some of the best Indigenous players in the country and provided an opportunity to play a game they love.
"As an athlete myself, the 2019 NAHC is a reminder of just how important these types of events are and what an impact they have," said Keir Johnston, Manager of High Performance and Games for Indigenous Sport & Wellness Ontario (ISWO). "Young Indigenous athletes often don't get a chance to compete in an environment that celebrates who they are and recognizes Indigenous protocols and cultural traditions. At the end of the day, the sport is simply a vehicle to develop skills, create opportunity, build community and show these young athletes that they can achieve what they dream of."
The 2019 NAHC venues included the Canada Games Centre and Takhini Arena, kicking off with an Opening ceremony featuring an athletes parade, traditional smudge, an honour song which acknowledged female coaches and coaching staff, missing and murdered Indigenous women and the work women have done to keep the NAHC moving forward, and a round dance before teams were ushered into Takhini Arena with drumming and singing, performed by the Gúnèlchish Dakhká Khwáan dancers. "I really enjoy playing in native tournaments because of the culture components," said Cailen Hanzlik, a goalie for Women's Team Ontario. "The organizers are always able to tie in amazing cultural components and it's a very welcoming and inclusive environment, which makes you feel proud to be Indigenous and like you belong."
Teams (including coaches, chaperones and parents) travelled over 18 hours from Ontario to get to Whitehorse, Yukon, including three flights and a bus ride. For many youth, it was their first time travelling to the Yukon, an eye opening and inspiring experience; with more than 19 hours of sunshine per day and picturesque mountains creating a unique landscape, participating in the 2019 NAHC was an experience miles away from home, but close to the heart.
Whitehorse is located on the traditional lands of two First Nations, the Kwanlin Dün First Nation and the Ta'an Kwäch'än Council.
About NAHC
The National Aboriginal Hockey Championships (NAHC), founded by the Aboriginal Sport Circle and sanctioned by Hockey Canada, provides a forum for elite Bantam and Midget-aged Aboriginal hockey players from across Canada showcasing the athletic abilities of athletes from across the country, while also fostering cultural unity and pride. An event held annually since 2002, the NAHC also serves as a focal point for grassroots and regional Aboriginal hockey development.
Indigenous Sport & Wellness Ontario (ISWO) Quick Facts:
ISWO is the designated Provincial/Territorial Aboriginal Sport Body (P/TASB) for the province of Ontario, primarily funded through the Ministry of Tourism, Culture and Sport.
ISWO serves all Indigenous Peoples and communities across Ontario, including First Nations, Inuit and Métis, living on and off-reserve, in rural and urban settings, encompassing more than 350,000 Indigenous Peoples in the province.
ISWO promotes and creates opportunities for participation in sport and cultural activities that promote wellness and positive lifestyles for Indigenous Peoples across Ontario.
ISWO provides opportunities for physical literacy and competitive sport skill development and training by creating sport development pathways, designed specifically for Indigenous youth.
ISWO is recognized by the Aboriginal Sport Circle (ASC) and the North American Indigenous Games Council, and is the designated sport body for the development, selection and management of Team Ontario, which participates in the National Aboriginal Hockey Championships (NAHC) and North American Indigenous Games (NAIG).
###
Contact Information:
Indigenous Sport & Wellness Ontario (ISWO)
www.iswo.ca
Kylie.Thompson@iswo.ca
Kylie Thompson, Communications and Media Coordinator