One-Year Out to the 2021 Masters Indigenous Games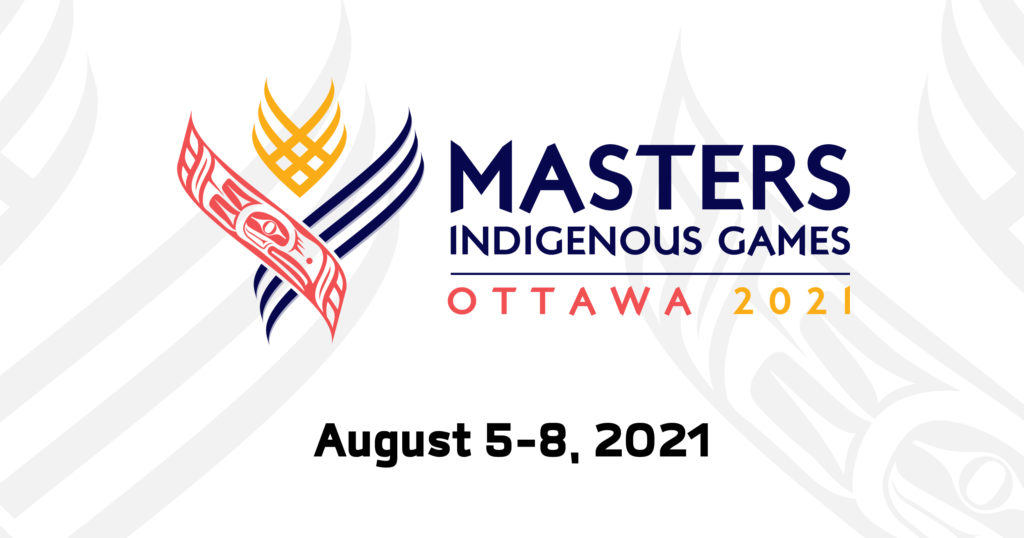 ORGANIZERS MARK ONE-YEAR OUT TO THE 2021 MASTERS INDIGENOUS GAMES IN PARTNERSHIP WITH THE CITY OF OTTAWA AND OTTAWA TOURISM
The 2021 Masters Indigenous Games, showcasing Indigenous cultures, sports and traditions from around the world, is sure to inspire, excite and engage.
Algonquin Territory – Ottawa, Ontario – August 27, 2020 – Organizers for the 2021 Masters Indigenous Games, in partnership with the City of Ottawa and Ottawa Tourism, held a launch event for 'virtual audiences' in Ottawa today, marking a year-out to the Games scheduled to take place in the Nation's capital from August 5-8, 2021. Live streamed by CBC Sports, the official media partner of the Games, via cbcsports.ca and the CBC Sports app, as well as on the free CBC Gem streaming service, the announcement featured remarks from Mayor Jim Watson and Michael Crockatt, President and CEO of Ottawa Tourism, and showcased a snippet of what attendees could expect to see next summer. The launch event, held at the Horticulture Building at Lansdowne Park, included a traditional throat singing performance by renown Inuit artists, Samantha Metcalfe and Cailyn Degrandpre, who perform together as Tarniriik (two souls); a Pow Wow style fitness instruction and performance by professionally trained dancer, Josee Bourgeois, who can be found inspiring audiences around the world via her Instagram page and work done with the National Arts Centre in Ottawa; and a demonstration of traditional Inuit games by Aalla (also known as Stranger) accompanied by his son Damien Metcalfe, who has been performing Inuit games demonstrations for over a decade now, and for the last five years, has been teaching Inuit culture in Ottawa schools.
Hosted and developed by Indigenous Sport & Wellness Ontario (the designated Provincial/Territorial Aboriginal Sport Body for Ontario), the Masters Indigenous Games (MIG) provides Indigenous adults aged 20 years and older, the opportunity to compete against their peers in a variety of contemporary and traditional sporting activities. The Games bring together thousands of Indigenous athletes from around the world to compete in sport competitions, celebrate Indigenous wellness, and showcase the rich diversity of cultures and traditions of the world's Indigenous Peoples.
"The MIG is an opportunity to bring together Indigenous Peoples from all over the world, and celebrate sport, culture and traditions, thousands of years old," says Marc Laliberte, President of ISWO. "There is a tremendous sense of community, sharing and learning, between all of the participants – from athletes, to spectators, to volunteers. Playing traditional games, competing in sport, learning about Peoples that have inhabited lands for millennia, and showcasing achievement on an international stage in one of Canada's most diverse, and celebrated cities, is a tremendous step forward in the journey of reconciliation – it's a huge part of healing from the past and coming together for the future."
The 2021 MIG will take place on the traditional territory and homelands of the Algonquin Peoples, who have inhabited the Ottawa region and surrounding lands from time immemorial.
"We are excited to host the Masters Indigenous Games in 2021, and to welcome participants from Indigenous communities from around the world to Ottawa," says Jim Watson, Mayor of Ottawa. "As the nation's capital, our city is an outstanding venue to host this diverse sporting and cultural event. I am confident that hosting the 2021 MIG in Ottawa will provide an exceptional and memorable experience for all participants, officials and spectators."
With more than 2,000 Indigenous athletes expected to attend from around the world, competing in 10 sport categories, and a three-day Cultural Village open to the public, the event represents a one-of-a-kind experience for both participants and spectators alike. "It is with great pride that we welcome the Masters Indigenous Games to Ottawa in August of 2021," says Michael Crockatt, President and CEO of Ottawa Tourism. "We look forward to hosting participants, staff, and spectators to our destination, highlighting our fantastic attractions and celebrating the rich Indigenous heritage of this region. The Cultural Village will increase the ways of experiencing, supporting, and celebrating Indigenous arts, culture and sport for those involved with the Games, as well as locals and visitors."
ISWO developed the Masters Indigenous Games in response to a gap in the sport development pathway for Indigenous Peoples. Prior to the development of the MIG, the only international competitive opportunity for Indigenous Peoples was provided through the North American Indigenous Games (NAIG), which is restricted to youth ages 13 to 19. The MIG attempts to fill that gap with support for life-long physical activity, and opportunity for increased participation in sport, within a cultural framework that celebrates the rich history and unique diversity of Indigenous Peoples. The development and growth of the MIG would not be possible without the ongoing support and commitment from the Ministry of Heritage, Sport, Tourism and Culture Industries, who continues to support sport development for Indigenous Peoples in the province.
The 2021 MIG is expected to be a forerunner for an even larger 2023 MIG, also scheduled to take place in Ottawa. The host city for the 2025 MIG will be determined through an open bid-application process, which will be announced by ISWO in the near future. For more information about the 2021 MIG, please visit www.mastersindigenousgames.ca.
About the Masters Indigenous Games
The Masters Indigenous Games were founded by Indigenous Sport & Wellness Ontario (ISWO) to meet the growing need for competitive sport for the aging population. The Games encourage mature individuals to be active, with the awareness that competitive sport can continue throughout life, contributing to increased health and wellness. The inaugural MIG took place in Toronto, Ontario from July 12-15, 2018, providing an opportunity for Indigenous adults from around the world to engage in sport competition with their peers.
Masters Indigenous Games Quick Facts:
The MIG 2018 featured more than 600 participants, from six countries and 59 Indigenous communities, 300 volunteers, 200 registered Pow Wow dancers, 70 cultural performers, with more than 5,000 people in attendance over the four-day event.
The MIG 2018 resulted in an economic impact of $3 million dollars and supported Indigenous performers, artists, and businesses.
The 2021 MIG will feature a three-day Cultural Village located on the Great Lawn at Lansdowne Park, showcasing Indigenous artists, performers, interactive traditional sport
demonstrations, storytellers and vendors; the Cultural Village will be free and open to the public. • More than 700 volunteers will be required to support the 2021 MIG; volunteer registration is expected to open in the fall of 2020.
The MIG was founded by Indigenous Sport & Wellness Ontario (ISWO), the officially recognized Provincial/Territorial Aboriginal Sport Body for Ontario. For more information about ISWO, please visit www.iswo.ca.
###
Acknowledgement
ISWO honours the traditional lands and homelands of all Indigenous Peoples and communities across the province of Ontario, including First Nations, Inuit and Métis living both on and off reserve, in rural and urban communities.
Contact Information
Abidah Shirazi
Director of Marketing and Communications
Abidah.Shirazi@iswo.ca
www.mastersindigenousgames.ca