ISWO Launches 'Sport Development Tour' as a Pathway to NAIG and Beyond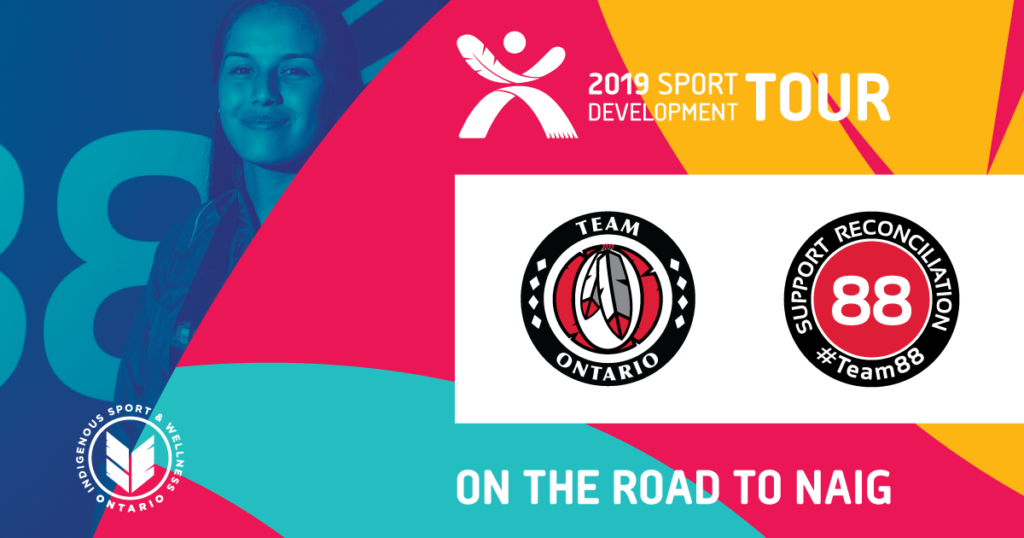 An initiative aimed at building capacity, developing skills and providing opportunities for Indigenous athletes across Ontario, at every level of play, from grassroots to high performance.
Mississauga, Ontario – May 31, 2019 – Indigenous Sport & Wellness Ontario (ISWO) announced Friday the launch of its 2019 Sport Development Tour: On the Road to NAIG, during a press conference held by Sport Canada to announce Federal funding to support Indigenous sport initiatives.
Traditionally, the designated Provincial/Territorial Aboriginal Sport Body (P/TASB), who is primarily funded by the Ministry of Tourism, Culture and Sport, hosts an Ontario Indigenous Summer Games as a lead-up and qualifier for participation in Team Ontario at the North American Indigenous Games. However, with changes to funding this year, ISWO looked to create an alternative and feasible model that still promoted athlete development and identification, but with the recognition that Indigenous athletes in Ontario require support at all stages of the sport pathway.
"Our focus was on creating a pathway, so that all Indigenous youth in the province of Ontario can have access and opportunity to participate in sport, regardless of the level of play," said Dale T. Plett, ISWO Director of Engagement, Operations and Policy. "With the new 'Sport Development Tour' we can reach more youth, in more communities and encourage them to learn a sport, develop skills and compete with their peers on an international level. We are creating a pathway where everyone belongs and one in which youth can see themselves as role models for the next generation."
This new initiative, the Sport Development Tour does just that; it will reach more Indigenous youth across the province, and will bring an entire gamut of opportunities for youth to take part in, helping them achieve in sport. The tour features sport clinics and multi-sport camps to help develop sport-specific skills for those just starting out or wanting to try something new, tryouts, competitions and tournaments for those already at the competitive level, and an athlete identification program, which identifies athletes at partner and community sport events, who have the potential to represent Team Ontario at the upcoming 2020 NAIG in Halifax, Nova Scotia. It's a model that ISWO believes, is truly more beneficial for youth and communities and one which will produce a stronger Team Ontario, and not just for the 2020 Games. The launch of the Sport Development Tour coincides with an announcement by the Federal Government outlining investments to expand sport and physical activity programming in Indigenous communities and aligns with the mandate of creating more access and opportunity.
"Reaching kids, in as many communities as possible, and providing a wide array of opportunities to value their engagement in sport, is priceless," says Mekwan Tulpin, High Performance Coordinator for ISWO. "They will continue to develop upon their physical literacy through play, practice and mastery. Showing them that a pathway exists, which can open new doors, while still celebrating who they are as Indigenous Peoples, is the goal of the program. As an ambitious athlete myself, access and opportunity have always been key and this initiative will allow us to remove some of the barriers, and support young Indigenous athletes to showcase their talents"
A major component of this model are the community partnerships ISWO is developing and strengthening, to achieve more with less. Working with existing sport programs, community championships, events and tournaments, ISWO is able to focus on playing a supporting role by bringing in sport expertise, specialized sport development leaders, identifying and scouting athletes, helping to run and organize sports and events, and sharing information with participating youth and families about opportunities in sport, available to them. To help achieve greater momentum, the Sport Development Tour utilizes #Team88, a campaign developed during the 2017 North American Indigenous Games, to raise awareness, engagement and action for the five Calls to Action (#87-91) directly relating to sport and recreation, listed within the Truth and Reconciliation's report of the 94 Calls to Action.
The tour launches this weekend, at an Archery event taking place at the Wulaasuwiikan Healing Lodge, in partnership with the Native Youth Olympics, hosted this year by the Muncee-Delaware Nation of the Thames community. A schedule of events for the tour has been published and includes canoe/kayak, lacrosse, fastball, wrestling, soccer and volleyball. CBC, ISWO's official media partner, will be providing special coverage, highlights, and stories from the Sport Development Tour throughout the summer as part of its five-year agreement signed with the P/TASB last fall.
ISWO is looking to add to their existing 2019 tour roster by expanding to include an identification opportunity for athletes and is encouraging communities to consider hosting a tryout, multi-sport camp or sport event; interested communities are asked to email Team.Ontario@iswo.ca for more information. Additional tryouts for Team Ontario in all sport categories, for participation at the 2020 NAIG, are planned for the fall, winter and spring seasons leading into Games in July – a marquee sporting event that will have Turtle Island cheering on its youngest stars.
For information about ISWO's Sport Development Tour: On the Road to NAIG, visit iswo.ca.
About #TEAM88
From the Truth and Reconciliation Commission's Calls to Action, #88 calls on all levels of government to take action to ensure long-term Indigenous athlete development and growth through continued support for the North American Indigenous Games.
A legacy campaign of the 2017 NAIG, Team 88 actively promotes opportunities for:
Public education and the celebration of Indigenous athletes at a National level.
Reducing barriers to sport participation, increasing pursuit of excellence in sport, and building capacity for a more inclusive Canadian sport system.
Inclusive policy and program development that is relevant, addresses racism and levels the playing field.
Inclusion of Indigenous protocols in major games and international sporting events.
Team 88 recognizes the power of sport and culture as important pathways to reconciliation, creating a tangible opportunity for all Canadians to engage, support and participate.
About the North American Indigenous Games (NAIG)
The North American Indigenous Games are a multi-sport, multi-disciplinary event for Indigenous youth, between the ages of 13 and 19, from across North America (Turtle Island). The Games offer 14 contemporary sport competitions in addition to a vibrant cultural program, showcasing local and North American Indigenous cultural groups and artists.
The NAIG was first held in 1990 in Edmonton, Alberta, and has been staged on nine other occasions since then, in various locations throughout Canada and the United States. Athletes competing in the NAIG must be born of North American Indigenous ancestry. All contingents participating in the North American Indigenous Games (NAIG) must represent the Indigenous Peoples of a Province/Territory in Canada, or a State/Region in the United States of America. Only athletes registered with a contingent are eligible to compete in the NAIG. The NAIG is governed by the NAIG Council, the International Governing Body for the NAIG exercising exclusive jurisdiction, either directly or through its affiliate members or committees, over all matters pertaining to the Games
Indigenous Sport & Wellness Ontario (ISWO) Quick Facts:
ISWO is the designated Provincial/Territorial Aboriginal Sport Body (P/TASB) for the province of Ontario, primarily funded through the Ministry of Tourism, Culture and Sport.
ISWO serves all Indigenous Peoples and communities across Ontario, including First Nations, Inuit and Métis, living on and off-reserve, in rural and urban settings, encompassing more than 350,000 Indigenous Peoples in the province.
ISWO promotes and creates opportunities for participation in sport and cultural activities that promote wellness and positive lifestyles for Indigenous Peoples across Ontario.
ISWO provides opportunities for physical literacy and competitive sport skill development and training by creating sport development pathways, designed specifically for Indigenous youth.
ISWO is recognized by the Aboriginal Sport Circle (ASC) and the North American Indigenous Games Council, and is the designated sport body for the development, selection and management of Team Ontario, which participates in the National Aboriginal Hockey Championships (NAHC) and North American Indigenous Games (NAIG).
For more information about ISWO, visit iswo.ca.
###
Acknowledgement
ISWO honours the traditional lands and homelands of all Indigenous Peoples and communities across the province of Ontario, including First Nations, Inuit and Métis living both on and off reserve, in rural and urban communities.
Contact Information:
Indigenous Sport & Wellness Ontario (ISWO)
Kylie Thompson, Communications and Media Coordinator