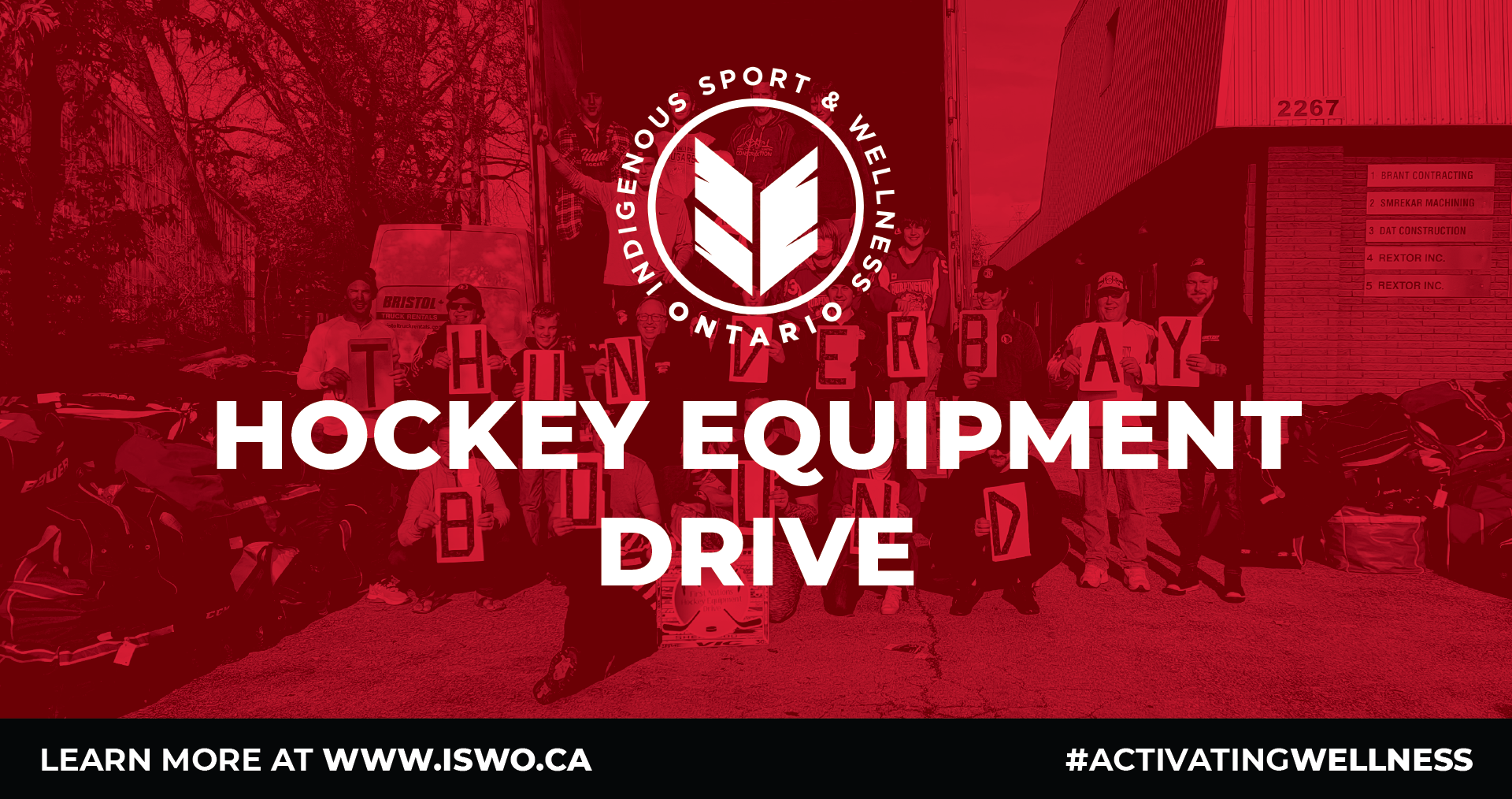 ISWO KEYS COLLABERATIVE EFFORT TO DELIVER HOCKEY EQUIPMENT FOR INDIGENOUS YOUTH IN THE NORTH
New and used hockey equipment to be distributed to various Indigenous youth in urban and remote Indigenous communities in the North.
Mississauga, Ontario – November 2, 2021 – Through the efforts of Indigenous Sport & Wellness Ontario ("ISWO"), in collaboration with a number of volunteer stakeholders, 350 hockey bags of hockey equipment, dozens of boxes of new equipment, 100s of hockey sticks, and approximately 150 cases of hand sanitizer were shipped to ISWO's storage facility in Thunder Bay for ultimate distribution to urban and isolated Indigenous communities, organizations, and families in the North.
This important initiative was a continuation of a yearly hockey equipment drive organized by Graham McWaters, a hockey dad from Richmond Hill, Ontario. McWaters started the initial drive for hockey equipment after speaking with families from Beausoleil First Nation at a hockey tournament in Midland, Ontario in 2015.
After hearing from some Beausoleil families who love hockey and their expressed need for better equipment, McWaters felt inspired to do something. In the first year of the equipment accumulation, he reached out to his son's Richmond Hill team for equipment donations. The team helped raise eight bags of equipment and numerous hockey sticks
"The plan for this year is to distribute the equipment to 40 First Nations youth and families from our storage facilities in Barrie, Whitby, Burlington, and Thunder Bay. On the weekend of October 23, 2021, 350 bags were shipped to Thunder Bay with the assistance of ISWO, for distribution to northern First Nation communities," explained McWaters.
On Saturday, October 23, 2021, ISWO was joined by McWaters' experienced group of volunteers, and over 30 volunteers from the Their Opportunity organization, Trucks for Change, Canada Mortgage and Housing Corporation and a number of local service and hockey organizations in collecting, sorting and shipping the donated new and used hockey equipment and hand sanitizer. The hockey equipment and hand sanitizer were shipped to ISWO's Thunder Bay warehouse the next day.
While Canadian Tire generously supplied about 85 of the new hockey bags, the vast majority of the high-quality, used equipment was secured through public donations organized by McWaters and his group and their network of service organizations. Their Opportunity assisted with planning, logistics, social media, and the online presence for the cash donations to buy new helmets and to support the transportation costs.  Unilever donated the hand sanitizer.
This collaborative effort will be an ongoing initiative. The final distribution of the equipment and hand sanitizer is now being planned for Thunder Bay and other Northern communities.
"It is community-driven efforts like this that ISWO is happy to support. The hockey equipment will benefit so many youth who might not have had a chance to play hockey without the proper equipment," said Marc Laliberte, President of ISWO.
Indigenous Sport &Wellness Ontario (ISWO) Quick Facts: 
ISWO is the designated Provincial/Territorial Aboriginal Sport Body (P/TASB) for the province of Ontario, funded through the Ontario Ministry of Heritage, Sport, Tourism and Culture Industries, and Sport Canada.
ISWO serves all Indigenous Peoples and communities across Ontario, including First Nations, Inuit and Métis, living on and off-reserve, in rural and urban settings, encompassing more than 350,000 Indigenous Peoples in the province.
ISWO promotes and creates opportunities for participation in sport and cultural activities that      promote wellness and positive lifestyles for Indigenous Peoples across Ontario.
ISWO is recognized by the Aboriginal Sport Circle (ASC) and the North American Indigenous Games Council, and is the designated sport body for the development, selection and management of Team Ontario, which participates in the National Aboriginal Hockey Championships and North American Indigenous Games.
For more information about ISWO, visit iswo.ca.
###
Acknowledgement:
ISWO honours the traditional lands and homelands of all Indigenous Peoples and communities across the province of Ontario, including First Nations, Inuit and Métis living both on and off reserve, in rural and urban communities.
Contact Information: 
Indigenous Sport & Wellness Ontario (ISWO)
Ashley Albert
Senior Communications Officer
ashley.albert@iswo.ca