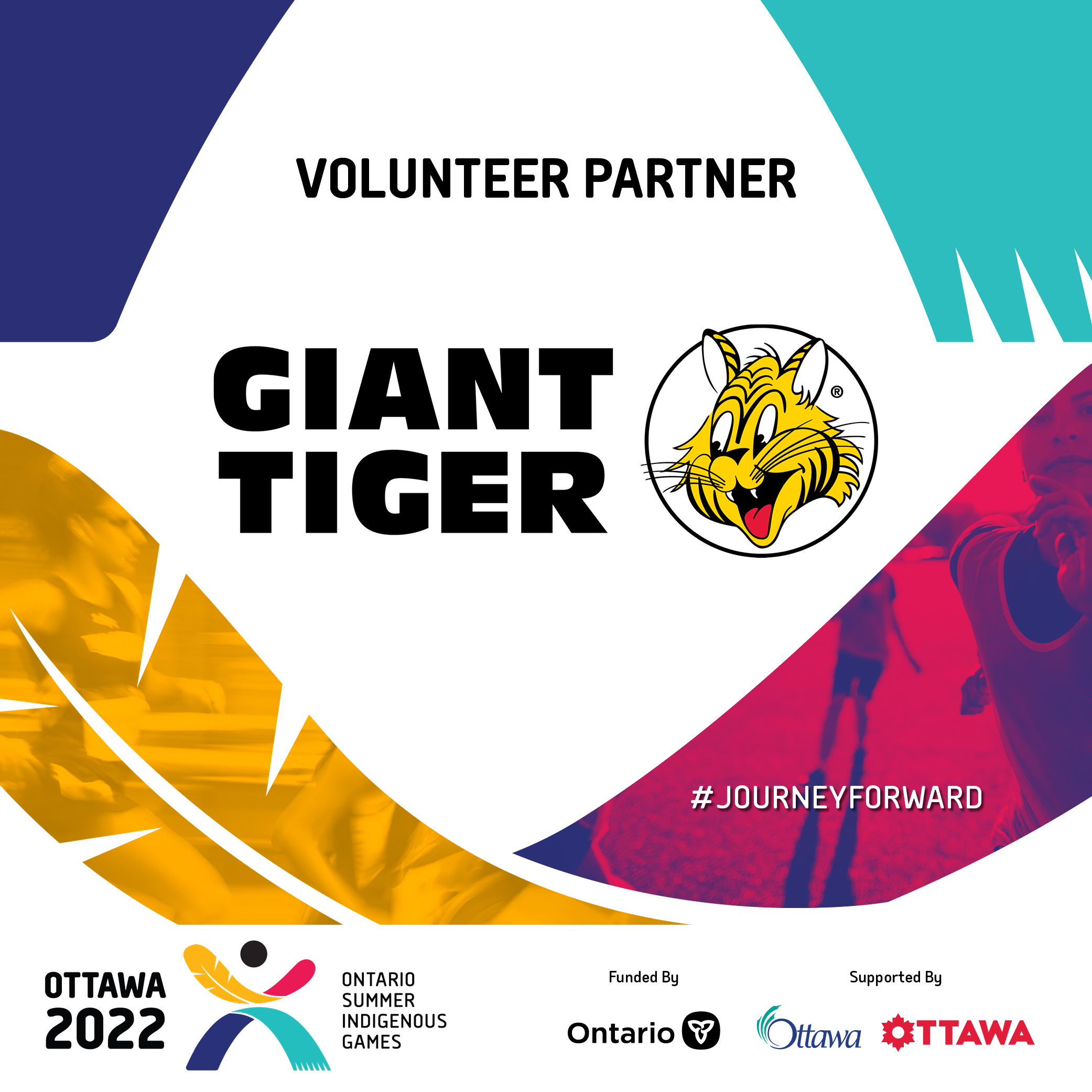 GIANT TIGER GOES THE DISTANCE AS THE OFFICIAL VOLUNTEER PARTNER FOR THE 2022 ONTARIO SUMMER INDIGENOUS GAMES
Giant Tiger is roaring to go, as a proud supporter of Indigenous youth, with special support for Games volunteers in this first return to in-person major event for ISWO.
Mississauga, Ontario – July 7, 2022 – The 2022 Ontario Summer Indigenous Games (OSIG) organizing committee is excited to announce Giant Tiger Stores Ltd. as the official volunteer partner for the provincial youth competition and Team Ontario athlete identifier, scheduled to take place in the Nation's capital, from July 28-31, 2022.
"At Giant Tiger, we believe in supporting organizations like Indigenous Sport & Wellness Ontario (ISWO), that make a tangible difference, because their success directly benefits the diverse communities they serve. We are proud to partner with the 2022 Ontario Summer Indigenous Games (OSIG) and be a part of the first major in-person event for ISWO since the pandemic," said Alison Scarlett AVP, Public Relations and Brand Communications, Giant Tiger Stores Limited. "We are thrilled to have the opportunity to join OSIG and ISWO to help make a positive impact on Indigenous youth across Ontario."
Giant Tiger is a proud retailer dedicated to supporting the diverse communities it calls home with a history of partnering with many local and national charities donating their time, money and products across the country. This is not the first time Giant Tiger has stepped up in a 'giant' way, in collaboration with Indigenous Sport & Wellness Ontario (ISWO). At the onset of the COVID-19 pandemic, Giant Tiger recognized that some Indigenous communities – particularly those in remote and northern regions of the province – were in need of essential supplies and assistance. Working in partnership with ISWO, Giant Tiger provided a significant donation of key essential items, including new clothing, bedding, kids' toys, toiletries, and other essential home products for distribution to Indigenous communities across Ontario, through ISWO's networks and provincial distribution system.
"Giant Tiger has demonstrated once again how committed they are to supporting Indigenous communities in Ontario and beyond." said Marc Laliberte, President of Indigenous Sport & Wellness Ontario. "They played a huge role in ISWO's COVID-19 emergency relief efforts, and we are thrilled to have them join us as we return to in-person sport programming. Having Giant Tiger's support for OSIG's volunteer program, is tremendous; volunteers are the heart of any event, and this partnership ensures a world-class experience for our youth and families who will be in attendance."
The 2022 OSIG will bring together hundreds of Indigenous youths from across Ontario, for provincial level competitions, immersed in a celebration of Indigenous cultures and histories.
The OSIG, hosted by Indigenous Sport & Wellness Ontario (ISWO), and funded by the Government of Ontario, are an important step in the sport development pathway for Indigenous youth.
The Games will take place in the nation's capital on the traditional territories and ancestral homelands of the Algonquin Peoples, who have inhabited the region since time immemorial.
There are a number of exciting events planned in addition to the sport competitions, including an opening and closing ceremony, campus tours of the University of Ottawa, a recreational beach volleyball tournament at Mooney's Bay, and a 3D printing workshop for youth to express their creativity. After a long-hiatus, the 2022 OSIG will be the first in-person sporting event hosted by ISWO, who is looking forward to returning to the impactful work of increasing access and opportunity for Indigenous youth, through the power of sport.
About Giant Tiger
Giant Tiger, the leading Canadian-owned family discount store, is on a mission to make every dollar matter and is committed to providing on-trend family fashion, groceries, and everyday household needs. The privately held company has over 260 locations across Canada and proudly employs over 10,000 members of Team Tiger. All Giant Tiger locations are locally owned or operated by a team member who knows the community. Whether Canadians are shopping in-store or online at gianttiger.com, Giant Tiger makes it easy and fun for all to shop smart and save smart every day. #GTCommunityProud #GiantTiger
About the Ontario Summer Indigenous Games
Hosted and developed by ISWO, the Ontario Summer Indigenous Games provides Indigenous youth, ages 13 to 18 years of age, the opportunity to compete against their peers in a number of sport categories. The Games also serve as an identifier for athletes who aspire to compete at the North American Indigenous games, scheduled to take place in 2023.
ISWO will be hosting tryouts for all 14 NAIG sports throughout the year and into 2023, across the province of Ontario. A full schedule of tryouts, along with additional information, will be released in near future.
Ontario Summer Indigenous Games Quick Facts:
● The OSIG is an important step in the sport development pathway for Indigenous youth.
● The OSIG was founded by Indigenous Sport & Wellness Ontario (ISWO), the official Provincial/Territorial Aboriginal Sport Body for Ontario. For more information about ISWO, please visit www.iswo.ca.
● The 2022 OSIG are generously funded by the Government of Ontario, through the Ministry of Heritage, Sport, Tourism and Culture Industries, and supported by Ottawa Tourism and the City of Ottawa.
● CBC is the official media partner of the 2022 Ontario Summer Indigenous Games.
###
Acknowledgement
ISWO honours the traditional lands and homelands of all Indigenous Peoples and communities across the province of Ontario, including First Nations, Inuit and Métis living both on and off reserve, in rural and urban communities.
Contact Information
Hilary Ostrom
Manager of Marketing and Communications
Hilary.ostrom@iswo.ca