Team Ontario Tryouts – Kapuskasing
October 14 - October 16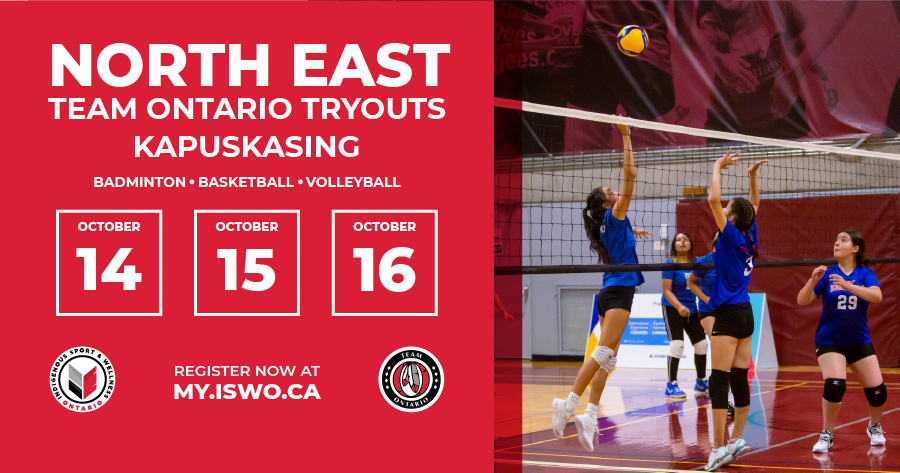 Registration is now open for Team Ontario tryouts taking place in the North East Region in Kapuskasing. Tryouts will take place across Ontario and more dates and locations will be shared shortly. The tryouts held in Kapuskasing will have the following sports and divisions:
Badminton
16U Male | 16U Female | 19U Male | 19U Female
Basketball
14U Male | 16U Male | 19U Male | 14U Female | 16U Female | 19U Female
Volleyball
16U Male | 16U Female | 19U Male | 19U Female
Tryouts will take place on October 14, 15 & 16, 2022 at various sport venues. For details on the full tryout schedule and venues, see each sport category at my.iswo.ca
Note that there is a tryout registration fee of $35. Registration is open to Indigenous youth residing in Ontario.
Important: if you are selected to participate, you will be required to pay for travel, accommodations, registration fees, food and uniforms. ISWO subsidizes what it can from funding, however, we encourage youth and families to start considering fundraising and other support options.
To Register for Team Ontario Tryouts, visit my.iswo.ca
To prep for tryouts, use the Athlete Checklist.
To see the Athlete Selection Policy for NAIG 2023, click here.
To see the NAIG 2023 Sport Technical Package, click here.
If you have questions or concerns regarding Team Ontario tryouts, please contact team.ontario@iswo.ca